John Frederick Delisle Parker
(Palette)
May 16 1884 - September 28 1962

J. Delisle Parker was born in New York City, and moved to England with his family at the age of nine. He was brought up near Stratford-on-Avon, where his father was American Consul in Birmingham and London. Parker was interested in theatre, and also studied art at the Croydon Art School. He studied art in Paris for five years in a number of schools including the Sorbonne and the Academie Julien, notably under Jean-Paul Laurens. He also studied in New York under Robert Henri.
He wrote for the McGill News between 1931 and 1934, also illustrating his articles, before moving to Vancouver in 1934. That year in October he had a solo exhibition of Oils, Watercolours, and Drawings at the Vancouver Art Gallery, with a catalogue of works available. The show was well received by the press.

From 1940 to 1959 Parker wrote an arts column for the Vancouver Province under the pseudonym of Palette.

He exhibited in the Seattle Art Museum's annual Northwest Artists exhibition in 1943.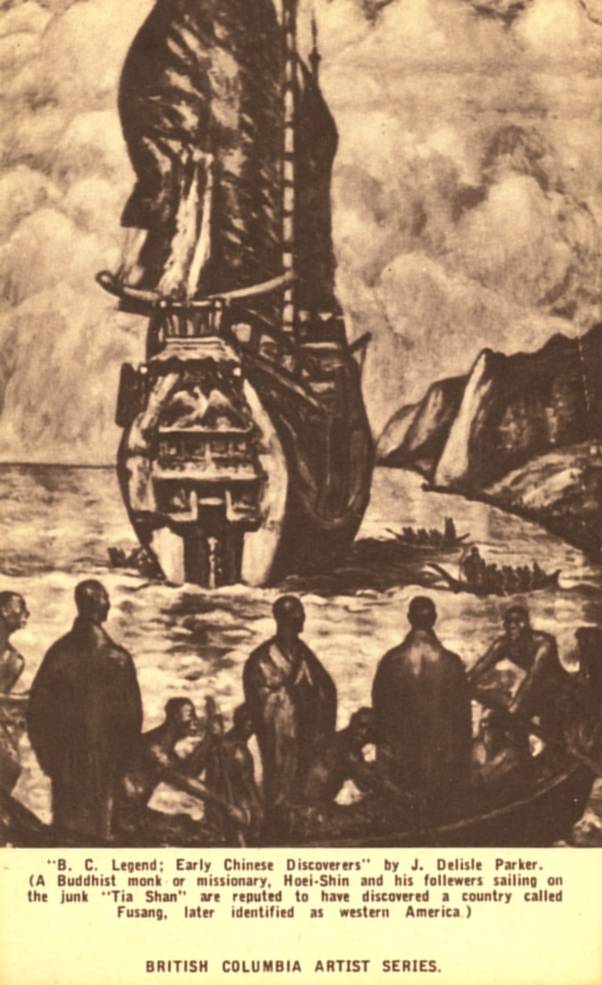 He had more solo exhibitions at the Vancouver Art Gallery in 1938, 1943, and 1951, as well as work in small group shows in 1938 and 1939. Lawren Harris wrote an introduction to Parker's 1951 exhibition catalogue, lauding Parker's work and referring to him as "a poet in paint", in addition to recommending that the public invest in Parker's work.

Parker also exhibited in the 1944 and 1945 British Columbia At Work exhibitions; the 1947 B.C. Artists' summer exhibition; and the juried 1948 17th Annual B.C. Artists exhibition, all held at the Vancouver Art Gallery.
He was on a list titled "Leading Vancouver Artists," provided to the Labour Arts Guild on April 10, 1946 by the Vancouver Art Gallery to assist in the Guild's call for entries to the second annual B.C. At Work exhibition.

He also exhibited with the B.C. Society of Fine Arts in their annual exhibitions in 1942, 1943, and 1949.

He submitted three ink drawings and a drypoint to the 1949 B.C. Graphic exhibition at the Vancouver Art Gallery, only the drypoint was selected for the exhibition.

He signed his early artwork John Parker, then John F. Parker, and then finally J. Delisle Parker.
Exhibitions
SOLO EXHIBITIONS
GROUP EXHIBITIONS
| | | |
| --- | --- | --- |
| DATE | EXHIBITION | ARTWORK |
| | | |
| 1937 Sept. 17 - Oct. 10 | VAG B.C. Artists 6th Annual | Grain Elevator |
| 1938 Sept. 16 - Oct. 9 | VAG B.C. Artists 7th Annual | Pine Street |
| | | Waterfront, Vancouver |
| 1940 Sept. 20 - Oct. 13 | VAG B.C. Artists 9th Annual | Tunisia |
| | | Beyond Lytton |
| 1941 May 10 - June 1 | BCSFA 31st Annual | Quartier Latin |
| 1942 May 15 - 31 | BCSFA 32nd Annual | Sunday in the Park |
| 1942 July 7 - Sept. 2 | VAG B.C. Artists 1st Annual Summer | Sunday in the Park |
| 1942 Nov. 3 - 15 | FCA Red Cross Benefit | (no information available) |
| 1943 May 15 - June 6 | BCSFA 33rd Annual | Outside Walls of Sfax |
| | | The Plum Tree |
| | | Fraser Canyon |
| | | Indian Reservation, North Vancouver |
| | | Liner in Port |
| 1943 July 2 - Aug. 25 | VAG B.C. Artists 2nd Annual Summer | Fraser Canyon |
| | | Liner in Port |
| 1943 Sept. 25 - Oct. 20 | VAG B.C. Artists 12th Annual | Haida Legend: Chief Edensaw's (sic) Canoe |
| | | B.C. Legend - Early Chinese Explorers |
| 1944 May 13 - June 4 | BCSFA 34th Annual | The Bathers |
| | | B.C. Legend - Drake Sees the Olympics |
| | | Forbidden Plateau |
| | | Tree Rhythms |
| 1944 July 4 - Aug. 30 | VAG B.C. Artists 3rd Annual Summer | B.C. Legend |
| 1944 Sept. 23 - Oct. 22 | VAG B.C. Artists 13th Annual | The Philosopher |
| | | Paris '43 |
| | | Luxembourg Gardens, Paris |
| 1944 Nov. 21 - Dec. 10 | Labour Arts Guild 1st B.C. At Work | Track Gang |
| 1945 May 18 - June 10 | BCSFA 35th Annual | In Memorium |
| 1945 July 3 - Aug. 26 | VAG B.C. Artists 4th Annual Summer | The Philosopher |
| | | In Memorium |
| 1945 Sept. 22 - Oct. 21 | VAG B.C. Artists 14th Annual | Off Shanghai |
| | | Kowloon, China |
| 1945 Nov. 13 - Dec. 2 | Labour Arts Guild 2nd B.C. At Work | Landing Fish |
| 1946 May 31 - June 23 | BCSFA 36th Annual | Haida Raiders |
| | | Return from Agincourt |
| | | Seven Sisters |
| 1946 July 2 - 28 | VAG Jubilee Exhibition | The City |
| 1946 Sept. 21 - Oct. 13 | VAG B.C. Artists 15th Annual | The Old Carr House, Victoria |
| | | Ritual Mask Dance, B.C. Indians |
| 1946 Oct. ? - ? | FCA 40 Selections from 15th BCA | Burrard Bridge |
| 1947 May 9 - June 1 | BCSFA 37th Annual | Emily Carr's Last Studio |
| | | Land of Hope and Glory |
| | | Towers of Islam |
| 1947 July 8 - 27 | VAG B.C. Artists Summer Exhibition | Land of Hope and Glory |
| | | The Old Carr House |
| 1947 Sept. 20 - Oct. 12 | VAG B.C. Artists 16th Annual | Early Morning, Tunisia |
| 1948 May 18 -June 6 | BCSFA 38th Annual | The Barrier |
| | | Fraser Canyon |
| | | Burrard Bridge, Winter |
| 1948 Sept. 18 - Oct. 10 | VAG B.C. Artists 17th Annual | The Canyon |
| | | On the Thompson River |
| 1949 May 3 - 22 | BCSFA 39th Annual | Rockbound |
| | | Rock Forms |
| | | Evening Surf, Barrier No. 2 |
| | | On the Thompson River |
| | | Gateway to the Canyon |
| 1949 Oct. 8 - 30 | VAG B.C. Artists 18th Annual | Rock Forms and Night Sea |
| | | Land of the Skyblue Water |
| 1949 Nov. 22 - Dec. 11 | VAG First B.C. Graphic | Towers of Notre Dame (rejected) |
| | | Tranquil Cove (rejected) |
| | | Storm King (rejected) |
| | | The Prophet |
| 1950 April 25 - May 14 | BCSA 40th Annual | Forbidden Plateau |
| | | Grain Elevator Forms |
References
SEATTLE ART MUSEUM - NORTHWEST ARTISTS EXHIBITIONS 1914 - 1975
Refer to NWA BC artists by exhibition
Refer to NWAA BC artists alphabetically

SOUVENIR CATALOGUE OF EXHIBITIONS OPENING THE NEW VANCOUVER ART GALLERY (refer to VAG51)

BRITISH COLUMBIA - A CENTENNIAL ANTHOLOGY (refer to BCCA58)

100 YEARS OF B.C. ART (refer to VAG58)

ARTISTS IN CANADA 1982 - UNION LIST OF ARTISTS' FILES (refer to AIC82)

MONTREAL MUSEUM OF FINE ARTS -
SPRING EXHIBITIONS 1880 - 1970 (refer to MM88)

A DICTIONARY OF CANADIAN ARTISTS (refer to M)

BIOGRAPHICAL INDEX OF ARTISTS IN CANADA (refer to BIAC03)
7 references cited for Parker.

GREATER VANCOUVER ART GALLERIES 1954-2020 (refer to GVAG20)
1 reference to Parker

VANCOUVER PUBLIC LIBRARY - B.C. ARTISTS FILES (refer to VPL)

B.C. VITAL STATISTICS ON-LINE death (refer to BCVS)
Clippings
"French Honour Artist's Work. John Deslisle Parker, Well Known Here, Showing in Paris Exhibition"
The Daily Colonist, Victoria, August 15 1931

"Former Local Artist Coming. John D. Parker, Eminent Painter, Arrives From Paris"
The Times, Victoria, April 26 1934

"God's Country" by Edgar Brown
Vancouver Province, June 25 1934

"Artist to Give One-Man Show"
The Daily Colonist, Victoria, October 11 1934

"A Gentleman Adventurer" by Edgar Brown
(newspaper unknown), October 18 1934

"Clever Artist Has Fine Exhibit Displayed Here" by T.H.W.
News-Herald, October 23 1934

"Fine Display of Paintings by J. Parker"
Vancouver Province, October 24 1934

"Deslisle Parker Show at Gallery"
News-Herald, March 1938

"Plateau Paintings On Exhibition"
(newspaper unknown), March 10 1938

"Well-known Vancouver artists recently elected (BCSFA) members include ... J. Deslisle Parker ..."
From "B.C. Artists' Display To Calgary For Exhibition" by Palette Vancouver Province, May-June 1942

" ... Among those contibuting paintings and drawings are: ... John Deslisle Parker ... "
From "Noted Artists Offer Paintings For Red Cross" Vancouver Province (presumed), November 1942

"Following his trend in legendary subjects J. Deslisle Parker is showing a large vertical panel called "Drake sees the Olympics" ... "
From "Notable Exhibits of Artists' Work" by Mildred Valley Thornton Vancouver Sun (presumed), May 1944

"The foregoing history was written by J. Delisle Parker, in collaboration with the Society's historian, S.P. Judge."
From "B.C. Society of Artists - A History" by J.D. Parker
B.C. Society of Fine Arts 40th Annual Exhibition Catalogue, 1950

" ... Gazing at J.W.G. Macdonald's painting ... are: ... John Deslisle Parker ... "
From "For and about WOMEN" Vancouver Province, April 22 1950

" 'Palette' Exhibit - Paintings Capture Life of Far-Away Places"
Vancouver Province, August 26 1953

"Genuine Romanticism in Parker's Work" by The Critic
(newspaper unknown), (date unknown)




HOME