Margaret Eveline Wake (Miss)
April 16 1867 - October 13 1930

Margaret Wake was one of the earliest European-trained female artists to live and work in Vancouver. She was born in London, England in 1867, and took her art education at the Slade School in London and in Antwerp. According to the DICTIONARY OF BRITISH ARTISTS she was a still life and portrait painter living in London, and exhibited seven artworks in three exhibitions between 1893 and 1903. After arriving in Vancouver in 1911 she was active in a number of arts groups. She received numerous positive reviews of her artwork in exhibition.

She taught with Spencer Perceval Judge and Ann Batchelor at the Studio Club on Hastings Street. She later took summer excursions to Savary Island with Bachelor, where they rented a cabin.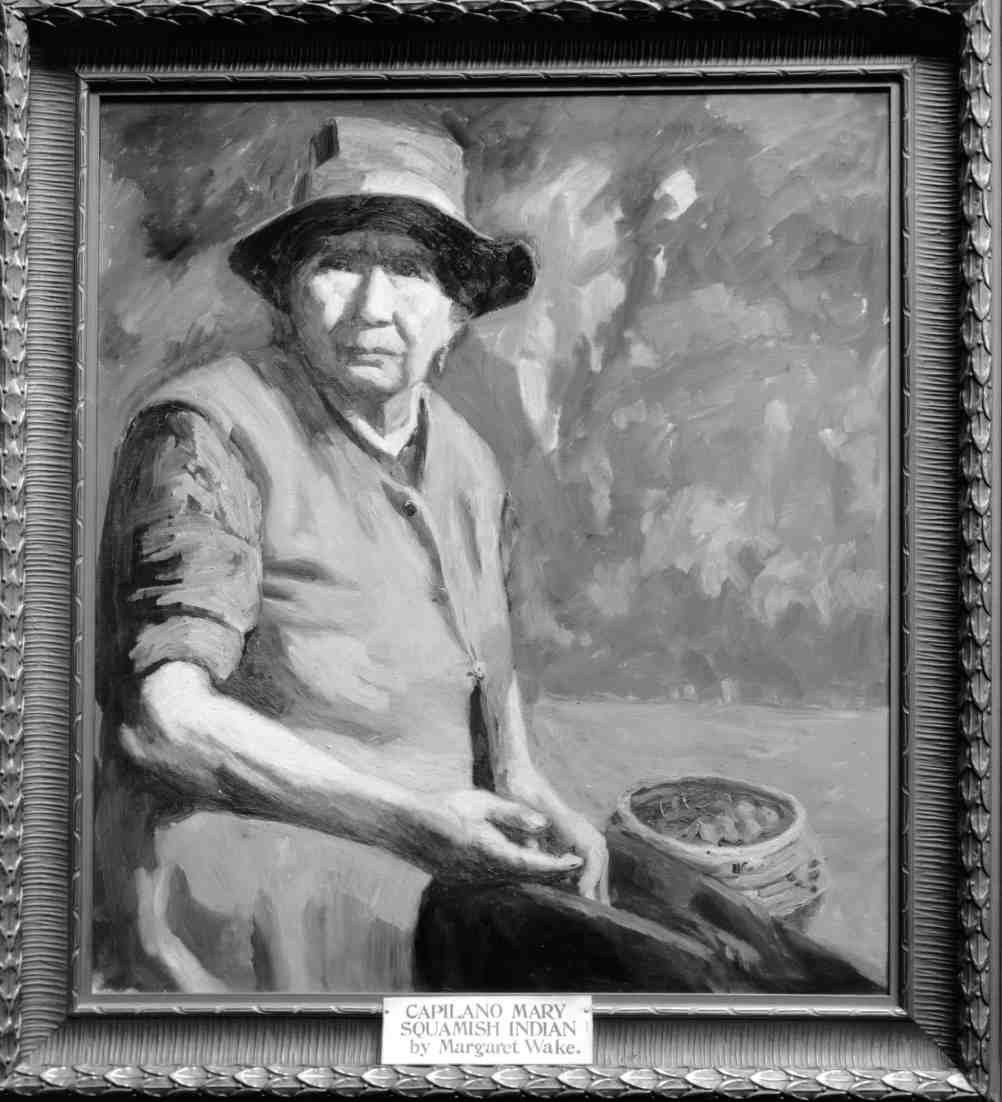 "Capilano Mary Squamish Woman"

Wake exhibited with the B.C. Society of Fine Arts from 1912 to 1929, and her work was retrospectively exhibited in 1936, 1950, and 1960.

She exhibited with the Vancouver Sketch Club from at least 1917 to 1920.

1922 advertisement

She exhibited with the Vancouver Exhibition in 1924, 1925, and 1930, and was listed in the 1924 exhibition catalogue as a member of the Fine Arts Committee.

Wake also exhibited with the Royal Canadian Academy in 1921 and 1926.

She died in Burnaby in 1930 at the age of 63.
Exhibitions
References
THE FINE ARTS IN VANCOUVER, 1886 - 1930 (refer to THOM)

EARLY PAINTERS AND ENGRAVERS IN CANADA (refer to H70)

THE DICTIONARY OF BRITISH ARTISTS 1880 - 1940 (refer to DBA76)

ROYAL CANADIAN ACADEMY OF ARTS -
EXHIBITIONS & MEMBERS 1880 - 1979 (refer to RCA81)

FROM DESOLATION TO SPLENDOUR by Maria Tippet and Douglas Cole
1977, Clarke Irwin & Co., ISBN 0-7720-1048-X
See biographical summary and colour illustration pages 79-82.

ARTISTS IN CANADA 1982 - UNION LIST OF ARTISTS' FILES (refer to AIC82)

BRITISH COLUMBIA WOMEN ARTISTS 1885-1985 (refer to AGGV85)

BIOGRAPHICAL INDEX OF ARTISTS IN CANADA (refer to BIAC03)
3 references cited for Wake, including RCA above.

CITY & PROVINCIAL DIRECTORIES 1913-14/1918-21/1927-28 (refer to DIR)

B.C. VITAL STATISTICS ON-LINE death (refer to BCVS)

https://westendvancouver.wordpress.com/biographies-a-m/biographies-b/batchelor-anne-1867-1963/
Clippings
"This year's exhibitors were ... Miss Margaret Wake ... "
From "Fine Arts Society Makes Fine Exhibit"
Vancouver Daily World, November 23 1911

"The pictures showed up strongly against the buff-toned walls and the miniatures and photos were arranged on flower-decked tables. The principal exhibitors were ... Miss Margaret Wake ...
&nbsp &nbsp &nbsp From (Wanderbund Club Exhibition)
&nbsp &nbsp &nbsp Vancouver Sun, June 3 1913

"Margaret Wake has evidently studied in good schools. She has a free and broad method, and while her "Daughter of the Empire", No. 18 (?) has a tendency to diffuseness, it is decidedly effective, and as a local subject is very intereseting. This artist, however, is far better, in the mind of the present writer, in her "Charlotte of the Mayfair", No. 82, which is a work of much vitality."
From "With The B.C. Artists" by "A Visitor"
Vancouver Province, September 27 1916

"By popular vote, Miss Margaret Wake won first place among the professionals, with a portrait of a young girl ... "
From "Social Notes"
Vancouver Daily World, May 7 1917

"At their new quarters in the Victoria block, the Vancouver Sketch Club had an interesting exhibition on Saturday afternoon. Among the exhibitors were ... Miss Wake ... "
"Many Visitors At Sketch Club"
Vancouver Daily World, December 3 1917

"Among members who have had the advantage of European training in the continental schools are Margaret S. Wake ... "
From "Eleventh Annual Exhibition of Fine Arts" by Bernard McEvoy
Studio Magazine, London England, February 15 1918

"Miss Margaret Wake displays a number of pictures very good in color and well drawn; her figure sketch "In The Studio", is an example of real draughtsmanship."
From "Freshness and vitality in Exhibition of Vancouver Sketch Club"
Western Woman's Weekly, June 5 1920

"For some time the meetings and exhibitions of the club were held at the studio of Miss Wake, but about two years ago an independent studio was secured at the present quarters, 342 Pender street west. This location has become known for its art associations, the building having also contained the studios of such well known artists as Mr. Thos. W. Fripp, Miss Margaret Wake, Miss Isabel Weir, and Mr. Norman Hawkins."
&nbsp &nbsp &nbsp From "Sketch Club Is Well Organized" by I.B.
&nbsp &nbsp &nbsp Vancouver Province, July 17 1920

"In the Loan Exhibit members represented were ... Miss Margaret Wake ..."
From "Vancouver Sketch Club Takes Part in Exhibit"
Western Woman's Weekly, September 18 1920

"Miss Margaret E. Wake's portrait in oils was a charming child life study, and her "Gay Bunch Of Flowers" in an old blue china pottery jar, was happy and cheering."
From "Vancouver Sketch Club"
Western Woman's Weekly, October 9 1920

"On this principle I would single out two pictures as being most satisfying. One is a portrait (119) "Capilano Mary," by Margaret A. (sic) Wake; there is a restraint and power in the treatment of the Indian woman's head that is very compelling ... "
From "Pictures at B.C. Fine Arts", by J. Butterfield
Vancouver Province, September 19 1921, page 12

"In portrait work attention has already been called to M. Margaret Wake's picture of an Indian woman, a solidly painted piece of work."
From "By the Way in Art" per B.C. Art League
Vancouver Province, Thursday October 6 1921, page 12

"Among the portraits a head of Raymond Pelligrew, by Margaret Wake, is a notable child study, round - almost sculptural - full of the mischievous life of childhood, potential and compelling."
From "B.C. Society of Fine Arts - Annual Exhibition All This Week"
Vancouver Province, May 7 1924

"Miss Margaret Wake has three good portrait studies, two of girls and one of an Indian woman."
From Palette and Chisel Club by Diogenes
Vancouver Province, November 6 1926

"Margaret Wake has three dashingly strong portraits in her well-known vigorous style."
From "B.C. Society of Fine Arts" by Bernard McEvoy
Vancouver Province, April 28 1928

"Miss Wake, who hails from London, laid the foundation of her successful art career at the Slade School, London, and exhibited there both at the Royal Academy and the Royal Institute of Painters in Oil Colours. She has been a resident of Vancouver for many years, and has exhibited at the Royal Academy, Ottawa. Incidentally it may be mentioned that she is a descendant of that Herward the Wake made famous by Charles Kingsley in his novel of that name, and who for eight years after the conquest of England held out against the Conqueror. The seat of the Wake family in England is Corteen Hall, Northamptonshire. Miss Wake painted "Sophie," a finely executed piece of work representing another well-known old indian woman. This has been frequently exhibited in Vancouver, and is now the property of Mrs. A.J. Pilkington, the wife of the City Comptroller."
From "The City Art Gallery" by G.H. Lardner
Museum and Art Notes, Vol. IV, No. 1. March 1929

"Many friends of Miss Margaret Wake, who for some years has been well known in this city as a painter of distinction, will regret to hear that she is seriously ill. It may be news to some of them than an outstanding success came to her at the May exhibition of the British Empire Academy in London, this mission of which, in its own words is to "Promote, aid and unite all the arts throughout the Empire."
From "Margaret Wake" by G.H Lardner
Vancouver Province, July 11 1930

Obituary
Vancouver Sun, October 16 1930

Obituary
Vancouver Star, October 16 1930

"Margaret Wake, a vigorous painter and a steadfast member of the society for long, is well represented by a portrait of Miss Ruth Henderson. It is full of color, broadly painted, and it attracted a good deal of notice. Miss Wake has also some flower pieces painted with a dashing brush."
From "B.C. Society of Fine Arts" by Diogenes
Vancouver Province, November 13 1930

"The Society membership has been constantly strengthened in the succeeding years by the addition of other members, which included in the early years ... Margaret Wake ... "
From "B.C. Society of Artists - A History" by J.D. Parker
B.C. Society of Fine Arts 40th Annual Exhibition Catalogue, 1950




HOME