Lois H. Gilpin (m George T. Gilpin)
dates

Lois Gilpin exhibited in Vancouver in at least 1917 and 1920 with the Vancouver Sketch Club. She was Honorary Secretary of the club in 1923, according to an article in the British Columbia Ladies' Mirror, and also showed her artwork in the club's semi-annual exhibition that December.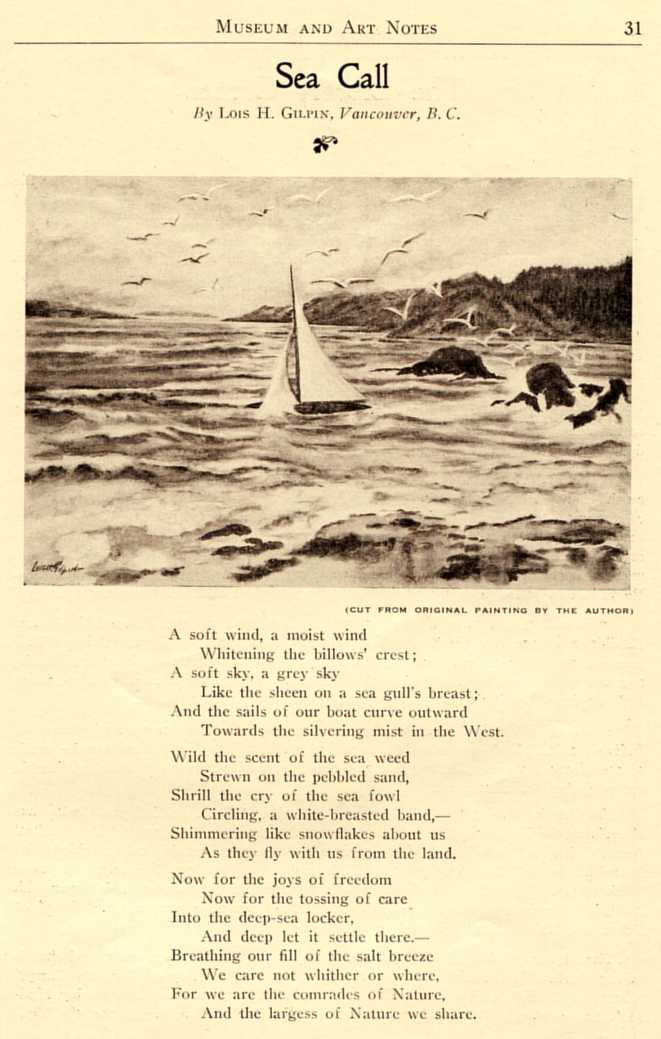 Sea Call

Lois M. Gilpin had a solo exhibition at the Vancouver Art Gallery in 1934, presumably the same woman (but not necessarily).

She showed work in the B.C. Artists' annual exhibitions at the Vancouver Art Gallery from 1933 to 1945.

B.C. Vital Statistics on-lines records a Lois Gilpin passing away July 25 1963 at the age of 93. This is probably the same person.
Exhibitions
SOLO EXHIBITIONS
GROUP EXHIBITIONS

References - MONOGRAPHS
Refer to BIBLIO.
References - GROUP EXHIBITIONS
References - GENERAL
MUSEUM AND ART NOTES, Vol. VI, No. 1
March 1931; 42 pages, illustrated black and white
Published by the Art, Historical and Scientific Association of Vancouver
Poem "Sea Call" & illustration by Lois Gilpin on page 31.

THE FINE ARTS IN VANCOUVER, 1886 - 1930 (refer to THOM69)

B.C. VITAL STATISTICS ON-LINE (refer to BCVS)
Clippings
"Among the exhibitors were ... Mrs. G.T. Gilpin ..."
From "Social Notes"
Vancouver Daily World, May 7 1917

"At their new quarters in the Victoria block, the Vancouver Sketch Club had an interesting exhibition on Saturday afternoon. Among the exhibitors were ... Mrs. G.T. Gilpin ..."
"Many Visitors At Sketch Club"
Vancouver Daily World, December 3 1917

""A Little Marine", by Mrs. George Gilpin is a credit to the artist."
From "Freshness and vitality in Exhibition of Vancouver Sketch Club"
Western Woman's Weekly, June 5 1920

"Mrs. George Gilpin, of North Vancouver, won second prize for portrait from life in water colors, and third prize for figure from life."
From "Arts Clubs Active - Vancouver Sketch Club"
Western Woman's Weekly, September 18, 1920

"Mrs. Geo. T. Gilpin (was represented) by a sketch of a most natural looking little boy, "Buddy"."
From "Vancouver Sketch Club"
Western Woman's Weekly, October 9 1920

"Mrs. George Gilpin, in her picture of Moses Coulee, Wash., has given us a clever portrayal of sun-baked rocks and parched grass of a very high order."
From "Sketch Club Semi-Annual Art Exhibition"
B.C. Ladies' Mirror, December 15 1923

"... and Mrs. George Gilpin is honorary secretary."
From "Student Classes At Sketch Club" by L.H.G.
British Columbia Ladies' Mirror, December 15 1923

"Mrs. Lois Gilpin has a portrait head of a pleasant old gentleman full of humor and gentle kindliness that is an interesting piece of work."
From "Exhibition of B.C. Society of Fine Arts (Second Notice)"
Vancouver Province, May 9 1924

"A new fine arts committee for 1924 has been struck as follows: ... Mrs. Gilpin and Miss Wake, representing the Vancouver Sketch Club"
From "Will Feature B.C. Artists"
Vancouver Province, May 10 1924

"Artist Inspired by Scenes of Northwest"
News Herald, November 14 1934 by T.H.W.

"Mrs. Gilpin was an arts crazy of her time, a member and officer of every Vancouver organization in existence. She was also an artist, and a reproduction of one of her paintings serves as frontispiece."
From STIGMA, List 80 - Canadian Literature
n.d., catalogue by William Hoffer, bookseller
Editor's note: Hoffer was noted for acerbic comments in his catalogues. He was selling Gilpin's volume for $20.00 in catalogue 80. Hoffer is now deceased, but remains a legend in Vancouver antiquarian bookseller circles.




HOME