Frederick Horsman Varley
January 2 1881 - September 8 1969

Varley was born in Sheffield, England, in 1881. He grew up and took his art training in England at the Sheffield School of Art, and then in Belgium at the Academie Royale des Beaux Arts in 1901 and 1902. He returned to England, where he worked as an illustrator in London from 1904 to 1908. He lived in Sheffield for a few years before moving to Canada with his wife and two children in August 1912. He began working for the Grip Engraving Company in Toronto, and became involved with other artists.

Varley went to Europe during World War One as a war artist from 1914 to 1918, painting a number of important and even controversial works.

Varley became a major influence on the west coast art scene when he arrived in Vancouver in 1926 to begin teaching at the recently opened Vancouver School of Decorative and Applied Art under Charles Scott.

In 1927 he exhibited work in Victoria with the Island Arts and Crafts Society. He exhibited work with the B.C. Society of Fine Arts in November 1929. He also showed work in the annual B.C. Artists exhibitions in 1932 and 1934.

He exhibited in the Seattle Art Museum's annual Northwest Artists exhibitions in 1930, 1931, and 1937.

Varley had a solo exhibition in 1932 at the Vancouver Art Gallery, a show of landscapes in oil, watercolours, and drawings. The exhibition catalogue list includes catalogue numbers and prices but no titles for any of the artwork except for 4 of the 90 works in the show.

His contributions have been well recorded in biographies, exhibition catalogues, and surveys of Canadian art, including the 1935 confidential report by Arthur Lismer to the National Gallery of Canada, where Lismer noted that Varley
"... has raised the whole standard of achievement and interest of hundreds of young people and many of the more mature artists."

Varley showed work in the B.C. Artists Christmas exhibition at the Vancouver Art Gallery in 1933.

Varley c.v. from B.C. College of Arts Pre-Prospectus 1933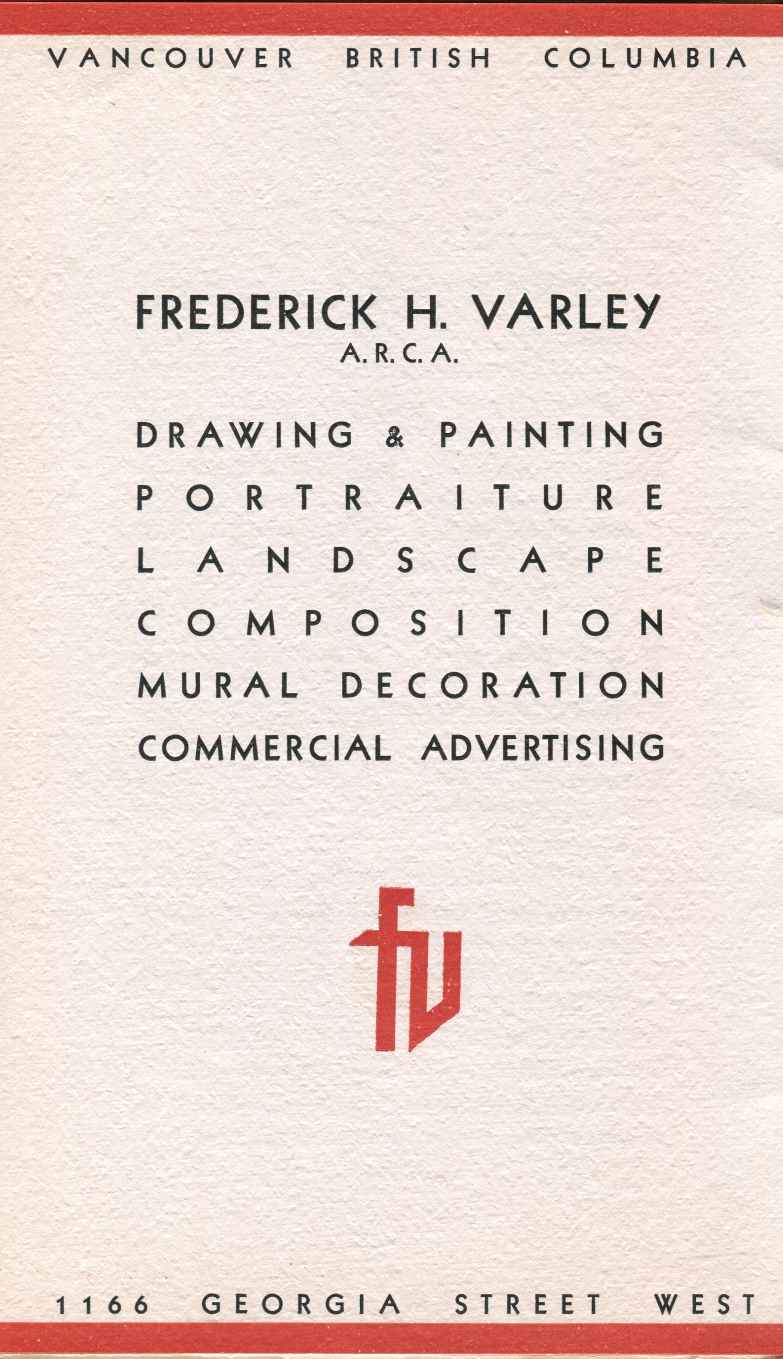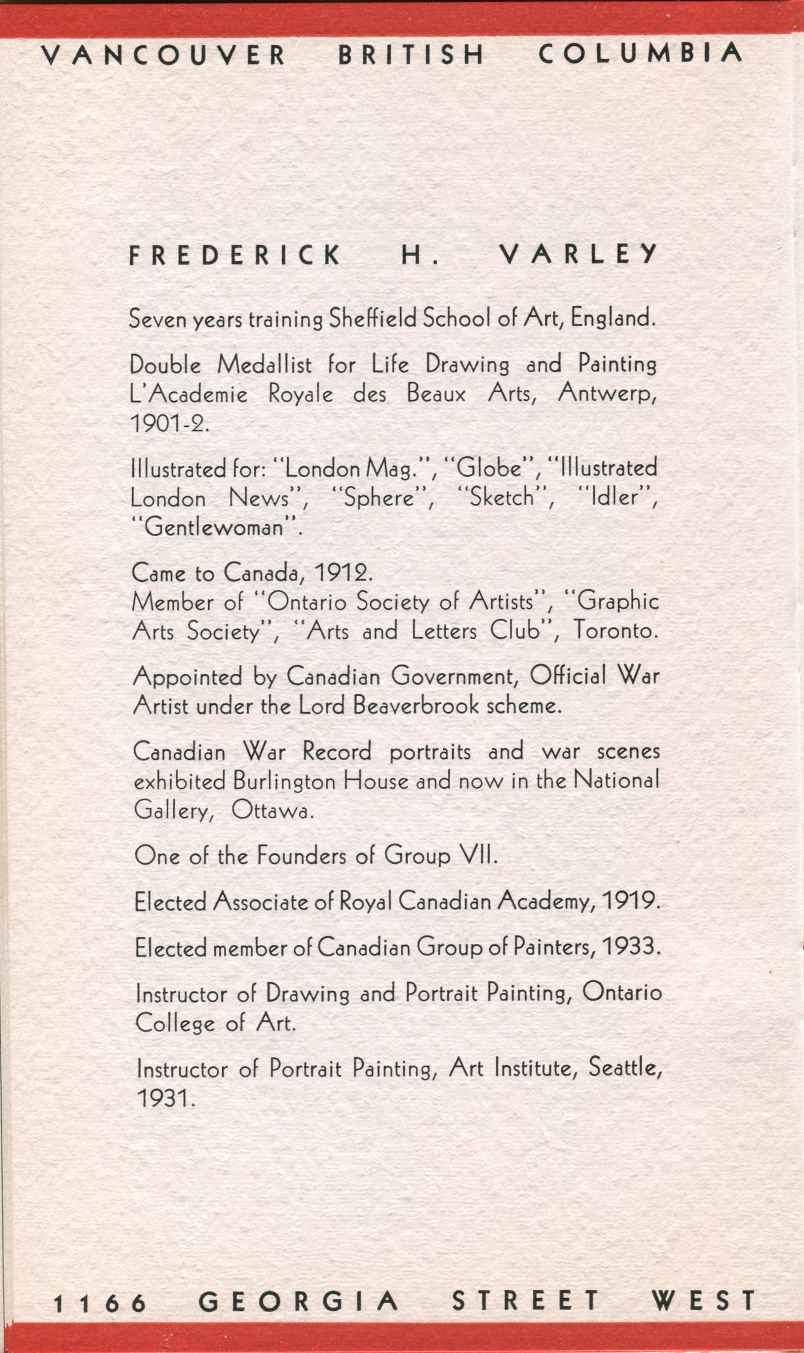 Varley c.v. from B.C. College of Arts Prospectus 1933

Varley and Jock MacDonald left the art school to found the B.C. College of Arts, Ltd. with Harry Tauber in 1933 after receiving cuts in pay from Scott. Although the College was instantly popular and enrolled many students, the finances didn't work out and the college closed in 1935. Varley left the west coast for Eastern Canada, and in later years only returned to the eastern part of B.C. in the Kootenay area.

In 1934 he had work in the RCA's 55th Annual exhibition, held at the Art Gallery of Ontario.

In 1941 he had work in the RCA's 62nd Annual exhibition, held at the Art Association of Montreal.

A large number of paintings and sketches remain from his years of work in Vancouver, a historic legacy of one of our most noted and flamboyant artists.


SOLO EXHIBITIONS


GROUP EXHIBITIONS





References - BIBLIOGRAPHY
Refer to BIBLIO.
References - GROUP EXHIBITIONS
SEATTLE ART MUSEUM - NORTHWEST ARTISTS EXHIBITIONS 1914 - 1975
Refer to NWA BC artists by exhibition
Refer to NWAA BC artists alphabetically

SOUVENIR CATALOGUE OF EXHIBITIONS OPENING
THE NEW VANCOUVER ART GALLERY (refer to VAG51)

100 YEARS OF B.C. ART (refer to VAG58)

ARTE CANADIENSE (refer to NGC60)

CONTEMPORARIES OF EMILY CARR IN BRITISH COLUMBIA (refer to SFU74)

VANCOUVER: ART & ARTISTS 1931 - 1983 (refer to VAG83)

VISIONS OF BRITISH COLUMBIA (refer to VAG09)

SHORE, FOREST AND BEYOND - ART FROM THE AUDAIN COLLECTION (refer to VAG11)

COTTAGES TO COMMUNITIES (refer to WVHS11)
References - GENERAL
B.C. COLLEGE OF ARTS Pre-Prospectus 1933

B.C. COLLEGE OF ARTS Prospectus 1933

WHO'S WHO IN NORTHWEST ART (refer to WWNA41)

BRITISH COLUMBIA - A CENTENNIAL ANTHOLOGY (refer to BCCA58)

THE FINE ARTS IN VANCOUVER, 1886 - 1930 (refer to THOM69)

CREATIVE CANADA - Volumes One & Two (refer to CC71)
Includes 1-1/2 columns of information on Varley.

THE DICTIONARY OF BRITISH ARTISTS 1880 - 1940 (refer to DBA76)

CANADIAN ART PRINTS (refer to CAP79)

ROYAL CANADIAN ACADEMY OF ARTS -
EXHIBITIONS & MEMBERS 1880 - 1979 (refer to RCA81)

MONTREAL MUSEUM OF FINE ARTS -
SPRING EXHIBITIONS 1880 - 1970 (refer to MM88)

ART BC, MASTERWORKS FROM BRITISH COLUMBIA by Ian M. Thom
2000, Douglas & McIntyre Ltd., ISBN 1-55054-808-5
232 pages illustrated in colour and b&w
Includes historical essays, biographical notes, index.

CANADIAN ART - FROM ITS BEGINNINGS TO 2000 (refer to CAN00)

CANVAS OF WAR - PAINTING THE CANADIAN EXPERIENCE 1914 TO 1945
2000, by Dean F. Oliver, Laura Brandon; Foreword by J.L. Granatstein
Douglas & McIntyre Ltd., ISBN 1-55054-772-0
178 pages illustrated in colour and b&w
Includes historical essays, chronology, sources, index of works, index of artists.

BIOGRAPHICAL INDEX OF ARTISTS IN CANADA (refer to BIAC03)
25 references to Varley.

THE FECKLESS COLLECTION (refer to FECK18)

GREATER VANCOUVER ART GALLERIES 1954-2020 (refer to GVAG20)
1 references to Varley.

ISLAND ARTS AND CRAFTS SOCIETY - List of Exhibitors

VANCOUVER PUBLIC LIBRARY - B.C. ARTISTS FILES (refer to VPL)

CITY & PROVINCIAL DIRECTORIES 1929/31 Vancouver (refer to DIR)
Clippings
"Many other well-known artists are represented, including ... F.H. Varley ... "
From "Bargains in Art" Vancouver Sun, December 1, 1933

"F.H Varley, R.C.A., and J.W.G. Macdonald, directors of the B.C. College of Art, will take their pupils up 5,000 feet into this country which they declare has marvellous possibilities from an artist's point of view."
From "In The Domain of Art" Vancouver Province, May 5 1934




HOME