George Lister Thornton Sharp (Captain)
March 3 1880 - July 2 1974

George Lister Thornton Sharp was born in London, England. He was educated at Haileybury, England, and commmenced his career as an architect in London in 1898. He arrived in Vancouver from London, England in 1908, according to an entry form he filled out for an exhibition. Although he trained and articled as an architect, he also took art classes at the Royal Academy. He had previously worked in Pretoria, South Africa, then returned to England before emigrating to Canada. He worked for an architectural firm in Montreal in 1906-07 before moving west. He married Hilda Fisher, of Pretoria, South Africa.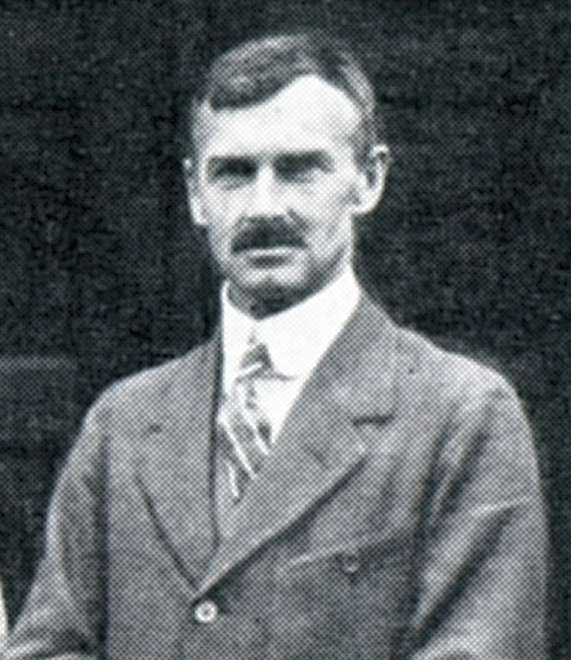 He exhibited his artwork in Vancouver, starting at least as early as 1909 with the B.C. Society of Fine Arts' debut First Annual Exhibition at the Dominion Hall in Vancouver. The exhibition catalogue for that show lists Sharp's name in four different ways: J. Thornton Sharp ARIBA; G.L. Thornton Sharp; J.L. Thornton Sharp; and G. Thornton Sharp ARIBA. It is possible that there were two Thornton Sharps in that show: J.L. and G.L.

G.L.T. Sharp was one of the earliest architects in Vancouver, registered as the 51st architect with the Architectural Institute of Vancouver. With Charles Thompson he co-founded the longest surviving architectural firm in Vancouver, Sharp and Thompson, albeit one that has changed names more than once. Around 1908 Sharp designed the Shaughnessy residence of R.S. Lennie, the father of artist Beatrice Lennie, who at that time was only a few years old. Many years later Beatrice was commissioned to create decorative work on Sharp's last major project, the Anglican church St. John's Shaughnessy, designed in the 1940s.

Sharp exhibited extensively with the B.C. Society of Fine Arts, including the exhibitions in November 1909, September 1920 (held at the Vancouver School Board offices on Hamilton Street), 1921, and 1922, May 1924, 1925, and 1926, June 1927, May and November 1929, from 1936 to 1940, 1944, 1950, from 1950 to 1957, 1959 to 1962, 1964, and 1967. He is probably the only artist who personally contributed work to the first and the last exhibitions held by the Society, a remarkable span of almost sixty years of art.

Sharp served with the Canadian Expeditionary Force in World War One, finishing the war with the rank of Captain, 47th Infantry Battalion, West Ontario Regiment. His "conspicuous gallantry and devotion to duty" won him a Military Cross in 1918. He was awarded a Bar for the Cross in 1919 for his actions on October 1 1918, in which he "showed great courage." After his return, it was fitting that he was commissioned to design the Cenotaph at Victory Square, Vancouver, which was constructed in 1924, according to Exploring Vancouver (Kalman et al).

He exhibited his work with the Island Arts & Crafts Society in 1927 and 1928, and at the Vancouver Exhibition in 1924 and 1930, representing the B.C. Society of Fine Arts in the latter exhibitions.

Sharp was the founding Director of the Vancouver School of Decorative and Applied Arts when it opened in 1925, but resigned after the first session as a courtesy. Charles Hepburn Scott had been selected as the Director, but was in Europe at the time and unable to take up his duties until the beginning of the second session.

Sharp and Thompson Architects designed the first Vancouver Art Gallery on Georgia Street, an art-deco poured-concrete building which opened in 1931. He exhibited his work in the gallery in the annual B.C. Artists exhibitions from 1932 to 1947. Sharp had solo exhibitions of pictures at the gallery in 1933, 1935, and 1937.

St. John Anglican church on Granville St. - Sharp's last project.

He retired to Vancouver Island, where he continued to paint until he died in Chemainus in 1974 at the age of ninety-four.
Exhibitions
SOLO EXHIBITIONS
| | | |
| --- | --- | --- |
| DATE | EXHIBITION | LOCATION |
| 1933 December 1 - 10 | Exhibition of Pictures | VAG |
| 1935 April 9 - 21 | Exhibition of Watercolours | VAG |
| 1937 May 4 - 16 | Exhibition of Watercolours | VAG |
| 1940 Oct. 15 - 27 | Watercolours | VAG |
GROUP EXHIBITIONS
| | | |
| --- | --- | --- |
| DATE | EXHIBITION | ARTWORK |
| | | |
| 1909 April 20 - 28 | BCSFA First Annual Exhibition | Yorkshire Moors |
| | | Pretoria, South Africa |
| | | On Howell's Ranch, Hornby Id. |
| | | Lucerne, Switzerland |
| | | Basilica Vicenza, Italy |
| 1909 November | BCSFA Second Exhibition | Street Scene in Zanzibar |
| | | Design for Small House, Strathcona, Pt. Grey |
| 1910 May | BCSFA Third Exhibition | Architect's Perspective |
| 1920 September 18 - 25 | BCSFA Annual Exhibition | Evening, North Arm |
| | | Grey Rocks, North Arm |
| | | North Arm |
| 1921 Sept. 19 - 24 | BCSFA 13th Annual | A Windy Day, Caulfield |
| | | A Hot Day |
| | | Qualicum Beach |
| | | Evening Mists |
| | | Morning Mists |
| 1922 Sept. 16 - 23 | BCSFA 14th Annual | Granville St. Bridge |
| | | False Creek |
| | | Fish Wharf |
| 1924 May 3 - 17 | BCSFA 16th Annual | Emerald Cave, La Jolla |
| | | Cormorant Cliffs |
| | | Balboa Park |
| | | La Jolla Bay |
| | | La Jolla Bay |
| | | Cactus |
| 1925 May 9 - 16 | BCSFA 17th Annual | Japanese Bridge, Fraser River |
| | | The Thaw |
| | | The Forest Edge |
| | | Frost on Fraser Delta |
| | | Qualicum Beach |
| 1926 May 8 - 15 | BCSFA 18th Annual | The Mouth of the Fraser |
| 1927 June 10 - 25 | BCSFA 19th Annual | St. Colomb |
| | | Markham Church |
| | | The Goat Herd |
| | | Bude Sands |
| 1929 May 18 - June 8 | BCSFA 21st Annual | Clovelly |
| | | Georgia Street |
| | | False Creek |
| | | Balantyne Pier |
| 1929 Nov. 16 - 30 | BCSFA Winter Exhibition | Halfmoon Bay |
| | | The Houseboat |
| | | The Gable |
| | | English Landscape |
| 1930 Aug. 6 - 16 | VanExh Oil Paintings & Water-colours | Black Tusk Meadows |
| | | Black Tusk Meadows |
| | | The Lake, Garibaldi Park |
| 1932 May - July | VAG All Canadian Exhibition | The Spit, Denman Island |
| | | Alouette River |
| 1932 Oct. 5 - 30 | VAG B.C. Artists 1st Annual | Denman Island Ferry |
| | | The Fraser Fleet |
| 1933 June 3 - 11 | BCSFA 23rd Annual | Harrison Lake |
| | | Arbutus Trees |
| | | Guildford |
| 1933 Sept. 22 - Oct. 15 | VAG B.C. Artists 2nd Annual | The Siesta |
| | | Denman Island |
| 1934 Sept. 21 - Oct. 14 | VAG B.C. Artists 3rd Annual | Mount Baker |
| | | Himalayan Poppies |
| | | Gladiolii |
| 1934 ? - ? | VAG B.C. Artists Edmonton Exhibition | Mount Baker |
| 1935 Sept. 20 - Oct. 15 | VAG B.C. Artists 4th Annual | Flowers |
| 1936 June 26 - July 12 | BCSFA 26th Annual | Gladioli |
| | | Beach Scene |
| | | Lost Lagoon |
| | | Evening Cove |
| 1936 Sept. 18 - Oct. 11 | VAG B.C. Artists 5th Annual | Mt. Baker |
| | | Flower Study |
| 1936 Oct. 15 - 20 | VAG B.C. Artists Chilliwack Exhibition | Mt. Baker |
| 1937 April 16 - May 1 | BCSFA 27th Annual | Cultus Lake |
| | | Harrison Hot Springs |
| | | Monterey, California |
| | | Mt. Baker |
| 1937 Sept. 17 - Oct. 10 | VAG B.C. Artists 6th Annual | Sands, Denman Island |
| | | Arrowhead Lake |
| | | Vancouver Island |
| 1938 April 29 - May 15 | BCSFA 28th Annual | Mouth of the Fraser |
| | | Sands, Denman Island |
| | | False Creek |
| | | Penticton, B.C. |
| | | Ballantyne Pier |
| 1938 Sept. 16 - Oct. 9 | VAG B.C. Artists 7th Annual | Arrow Lake |
| | | Carmel-by-the-Sea |
| 1939 June 9 - 25 | BCSFA 29th Annual | Flower Study |
| 1940 May 17 - June 2 | BCSFA 30th Annual | Byways |
| | | Among the Islands |
| | | On Vancouver Island |
| 1941 Sept. 26 - Oct. 19 | VAG B.C. Artists 10th Annual | Vancouver Island, B.C. |
| 1944 May 13 - June 4 | BCSFA 34th Annual | Landscape |
| | | Old Boathouse |
| | | Afternoon |
| 1947 Sept. 20 - Oct. 12 | VAG B.C. Artists 16th Annual | Maple Bay, V.I. |
| | | Salt Spring Island |
| 1948 Nov. 2 - 14 | VAG SSIAG Group Exhibition | Pool, Nanaimo |
| | | Ganges Harbour |
| | | Sansum Narrows |
| | | Yellow Point |
| 1950 April 25 - May 14 | BCSA 40th Annual | Evening Cove |
| | | Winter |
References
WHO'S WHO IN WESTERN CANADA
1911; Edited by C.W. Parker
A Biographical Dictionary of Notable Living Men & Women of Western Canada
Published by Canadian Press Association Ltd., Vancouver office
Contains 3,000 biographical sketches in 390 pages, incl. 84 pages photo portraits
References include Sharp

VANCOUVER CITY SCHOOLS - TRUSTEES ANNUAL REPORT 1925
23rd Annual Report; Published by the Board of School Trustees, City of Vancouver
136 pages illustrated; soft cover with drawing by Charles H. Scott
Includes School of Decorative and Applied Arts Report by Sharp page 95,
Also includes Drawing Report by S.P. Judge page 85.
Art school references pages 10, 19, 26, art class photos pages 96 and 97
Also complete statistics on students, attendance, buildings, teachers, courses, etc.

THE ARCHITECTURAL INSTITUTE OF BRITISH COLUMBIA HANDBOOK - 1928
1928, published by AIBC, 90 pages
Includes Register of Members, regulations, Architect's Act
Also Index of Building Materials Handled by Wm.N. O'Neil Co. Ltd.

100 YEARS OF B.C. ART (refer to VAG58)

THE FINE ARTS IN VANCOUVER, 1886 - 1930 (refer to THOM69)

ISLAND ARTS AND CRAFTS SOCIETY - List of Exhibitors

ARTISTS IN CANADA 1982 - UNION LIST OF ARTISTS' FILES (refer to AIC82)

MONTREAL MUSEUM OF FINE ARTS - SPRING EXHIBITIONS 1880 - 1970 (refer to MM88)
Two Sharp paintings listed in 1936 exhibition: Goblin Tree and Evening Cove.

BIOGRAPHICAL INDEX OF ARTISTS IN CANADA (refer to BIAC03)
2 references cited for Sharp including MM above.

BUILDING THE WEST - Early Architects of British Columbia
2003; Edited by Donald Luxton, numerous contributing authors and researchers
Talonbooks, ISBN 0-88922-474-9
560 pages, extensively illustrated in black and white, some colour
Biographies of over 400 architects and firms; extensive bibliography
Includes biography of Sharp, history of Sharp & Thompson Architects, art gallery photo

PUBLIC ART IN VANCOUVER - ANGELS AMONG LIONS (refer to PAV09)

VANCOUVER PUBLIC LIBRARY - B.C. ARTISTS FILES (refer to VPL)

https://westendvancouver.wordpress.com/biographies-n-z/biographies-s/sharp-george-lister-thornton-1880-1974/
Clippings
"Though but a small organization, numerically considered, the B.C. Society of Fine Arts has had the honor of contributing its quota of members to engage in the determined and now successful fight for freedom and civilization. It may be said that all those belonging to this artistic fraternity have helped in various ways, but those marked out for special recognition are:
GEORGE THORNTON SHARP. - A well-known architect of this city, who, on first going to the Western Front, was attached to the Aviation Corps, where his great ability in translating the results of observations into intelligible drawings and blue prints was much appreciated. He has risen to the rank of captain and for the past year has been a member of the headquarters staff, 3rd Division."
From Honor Roll - B.C. Society of Fine Arts
The Gold Stripe, Volume One, Christmas 1918

"Thornton Sharp has taken boats for the motifs in the water colours which he exhibits at the show."
From "B.C. Artists Reveal Talent at Show"
unknown newspaper, October 1932

"J. Thornton Sharp's sojourn in the Old Country gave him a new start in acquarelles; look at his two pictures."
From "B.C. Society of Fine Arts" by Diogenes
Vancouver Province, November 13 1930

"Mr. Sharp was the architect for the Art Gallery, and his work is well known in this city. This is his first one-man show of pictures."
From Art Gallery Bulletin, December 1933, Vol. 1, No. 4

"Charming Display of Watercolours" by R.W.M.
Vancouver Province, April 10 1935

"G.L. Thornton-Sharp, president of the society, has three delicate pastels, ... "
From "Fine Showing By B.C. Artists Follows Conventional Lines" by E.N.B.
Vancouver Province, April 30 1938

"G.T. Tyler (sic), G.L Thornton Sharp, James Amess, and Stanley Tytler and others make contributions which should be studied."
From "Leading Provincial Artists Exhibit at Show" by T.H.W.
News-Herald, June 10 1939

"Other artists showing creditable work are ... G. Thornton Sharp ..."
From "Notable Exhibits of Artists' Work" by Mildred Valley Thornton Vancouver Sun (presumed), May 1944

"G. Thornton Sharp, a city architect, was director of the School during its first year with Charles H. Scott as Principal. At the end of the first session, Mr. Sharp resigned and Mr. Scott was appointed Director."
From "A Short Art History of British Columbia" by Charles H. Scott
Behind The Palette, June 1947

"The original group of founders included ... G. L. Thornton Sharp, noted architect who laid out the first University buildings and is now retired on Vancouver Island ... "
From "B.C. Society of Artists - A History" by J.D. Parker
B.C. Society of Fine Arts 40th Annual Exhibition Catalogue, 1950

HOME