Bess Larkin Harris
(m Frederick Broughton Housser)(m Lawren Stewart Harris)
November 18 1890 - September 28 1969

Bess Harris was born in Brandon, Manitoba, and took some art training from Fred Varley of the Group of Seven, and was invited to exhibit her work in their shows.

In 1914 she married F.B. Housser, who later wrote A Canadian Art Movement. She exhibited her work at Wembley in 1926, and then in Washington D.C. and Baltimore, as well as various cities across Canada. Her work was reproduced in the 1929 Yearbook of the Arts in Canada.

She married Lawren Harris of the Group of Seven in 1934.

She showed her work in the Canadian Women's Exhibition.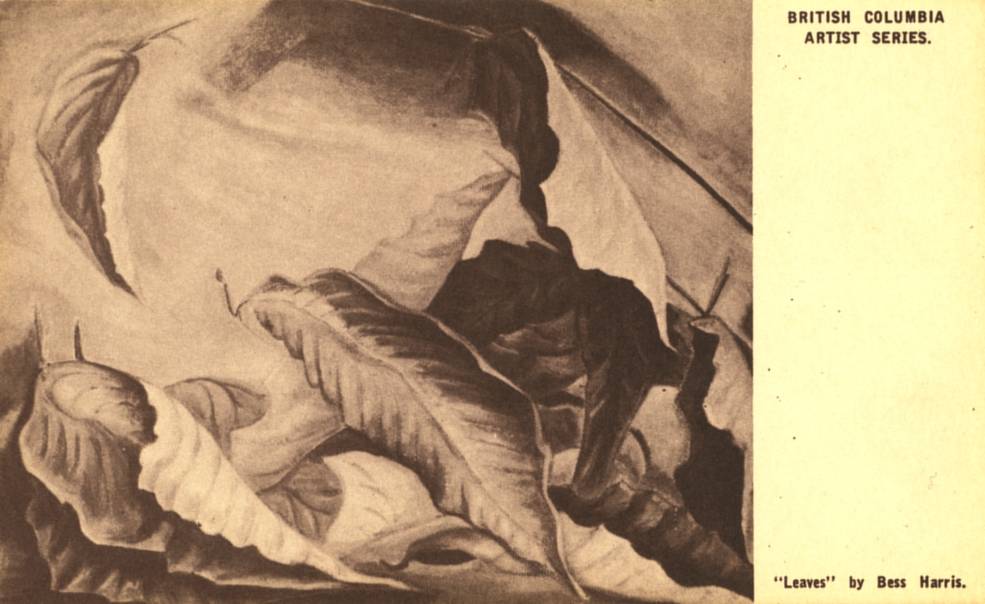 She was on a list titled "Leading Vancouver Artists," provided to the Labour Arts Guild on April 10, 1946 by the Vancouver Art Gallery to assist in the Guild's call for entries to the second annual B.C. At Work exhibition.

She exhibited with the B.C. Society of Fine Arts from 1941 to 1967.

She submitted four drawings to the 1949 B.C. Graphic exhibition at the Vancouver Art Gallery, two of them were selected for the exhibition.

Also, per card file at Vancouver Art Gallery Library:
VAG annual B.C. Artist exhibitions:
1941-43, 1946, 1948-1950, 1952
EXHIBITIONS
SOLO EXHIBITIONS
GROUP EXHIBITIONS

References
SOUVENIR CATALOGUE OF EXHIBITIONS OPENING THE NEW VANCOUVER ART GALLERY (refer to VAG51)

BRITISH COLUMBIA - A CENTENNIAL ANTHOLOGY (refer to BCCA58)

100 YEARS OF B.C. ART (refer to VAG58)

LAWREN HARRIS, Edited by Bess Harris and R.G.P. Colgrove
1969, published by The Macmillan Company of Canada; 146 pages
ISBN 0 7705 1451 7 (1976 paperback edition); Introduction by Northrop Frye
Compilation of art (mostly from family collection) and writing by Lawren Harris
Extensively illustrated in colour; chronology, list of paintings

ROYAL CANADIAN ACADEMY OF ARTS -
EXHIBITIONS & MEMBERS 1880 - 1979 (refer to RCA81)

ARTISTS IN CANADA 1982 - UNION LIST OF ARTISTS' FILES (refer to AIC82)

VANCOUVER: ART & ARTISTS 1931 - 1983 (refer to VAG83)

BRITISH COLUMBIA WOMEN ARTISTS 1885-1985 (refer to AGGV85)

MONTREAL MUSEUM OF FINE ARTS -
SPRING EXHIBITIONS 1880 - 1970 (refer to MM88)

A DICTIONARY OF CANADIAN ARTISTS (refer to M)

EARLY BRITISH COLUMBIAN WOMAN ARTISTS (refer to HG95)

BIOGRAPHICAL INDEX OF ARTISTS IN CANADA (refer to BIAC03)
5 references cited for Harris.
Clippings
" ... forms part of a group of abstract or semi-abstract compositions by ... Bess Harris ..."
From "B.C. Society of Fine Arts Display Sets New High Mark," by Palette Vancouver Daily Province, May 16, 1942

" ... Among those contibuting paintings and drawings are: ... Bess Harris ... "
from "Noted Artists Offer Paintings For Red Cross" Vancouver Daily Province (presumed), November 1942

"Hung side by side, and yet in harmony, the visitor can enjoy on the same wall such varied products as ... "The Red House" by Bess Harris ... (continues)
From "Summer Show at Gallery Major Event for Art Lovers," by Palette Vancouver Daily Province, July 7, 1943

" "Across the Ottertail Valley" by Bess Harris is one of the best efforts we have seen by this artist. "
From "Notable Exhibits of Artists' Work" by Mildred Valley Thornton Vancouver Sun (presumed), May 1944

"However, one can not omit mentioning the sensitive pictures of mountain scenery by Bess Harris ... (continues)"
From "Lively Spirit Pervades B.C. Artists' Exhibition" by Palette. Vancouver Daily Province, May 3 1949




HOME