Margaret Hilda Carter
June 27 1911 - October 6 1982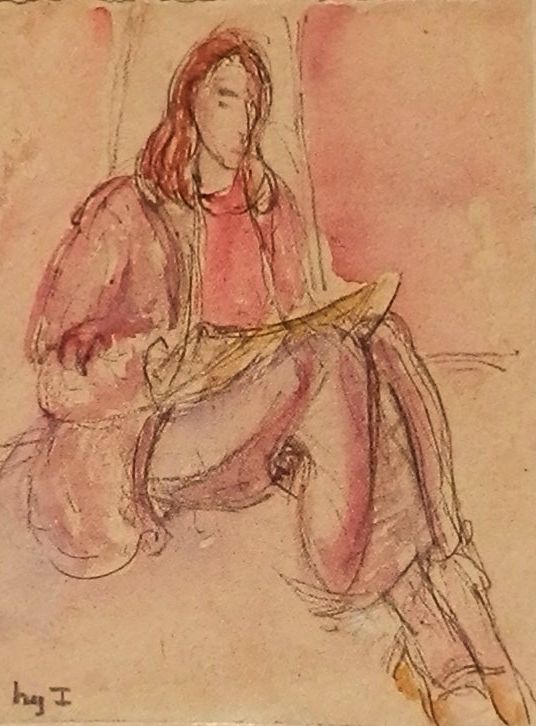 Margaret Carter was born in Vancouver in 1911. Her father Joseph Carter was an operator for the G.N.W. Telegraph Company, who retired in 1932 as Supervisor of C.N. Telegraphs. The family lived at 2266 East 6th Avenue in 1914, and by 1930 had moved to the end of the block at 2296 East 6th where they lived for many years.

Margaret's younger sister Edith C. Carter was also an artist, and they graduated together from the Vancouver School of Decorative and Applied Arts, receiving their diplomas in the school's fourth graduating class in 1932.

The 1931-32 Prospectus for the school noted that Margaret Carter had passed Third Year Drawing and Painting. She later exhibited with the Vancouver School of Art Graduates' Association.

She exhibited in the Seattle Art Museum's annual Northwest Artists exhibition in 1934.

She showed work in the B.C. Artists exhibitions at the Vancouver Art Gallery from 1933 to at least 1951. The paintings titled Edith and Isobel are presumably portraits of her sisters. She won a silver medal at the 1934 B.C. Artists exhibition.

In 1936, the Spring issue of The Smock Pocket noted that Carter was sharing a studio with Irene Hoffar Reid at 581 Granville Street.

She had a two-person exhibition at the Vancouver Art Gallery in 1938 with George Goutiere, and also showed her work at the Seattle Art Museum. She was a volunteer art teacher at a local community center.

In 1945 the artist was listed as living in Creston.

In 1951 the Vancouver City directory listed her and her sister as both living at 2296 East 6th Avenue.

She exhibited work with the B.C. Society of Fine Arts in 1959.

Carter died in Vancouver in 1982. She was living at 1661 Burnaby Street in the West End of Vancouver, occupation noted as retired teacher.
Exhibitions
SOLO EXHIBITIONS
GROUP EXHIBITIONS

References
SEATTLE ART MUSEUM - NORTHWEST ARTISTS EXHIBITIONS 1914 - 1975
Refer to NWA BC artists by exhibition
Refer to NWAA BC artists alphabetically

Attendee at the 1935 Vancouver School of Art Summer Camp
(refer to SUMMER SKETCHING CAMP - SAVARY ISLAND)

THE SAVARY PUDDING folio by Frederick A. Amess, private collection.
Original drawings, paintings and text by Amess, C.H. Scott, Grace Melvin,
H. Mortimer Lamb, Plato von Ustinov, and other students and visitors.
June 1935 (various dates), June 1939 (various dates)
52 loose 12"x18" sheets of brown sketch paper

WHO'S WHO IN NORTHWEST ART (refer to WWNA41)

SPRING EXHIBITION - FCA - BC REGION (refer to FCA64)

ARTISTS IN CANADA 1982 - UNION LIST OF ARTISTS' FILES (refer to AIC82)

BRITISH COLUMBIA WOMEN ARTISTS 1885-1985 (refer to AGGV85)

THE HISTORY OF THE ARTS IN WHITE ROCK (refer to WR93)

EARLY BRITISH COLUMBIAN WOMAN ARTISTS (refer to HG95)

BIOGRAPHICAL INDEX OF ARTISTS IN CANADA (refer to BIAC03)
1 reference cited for Carter, WWNA above.

VANCOUVER SCHOOL OF ART - LIST OF GRADUATES & STUDENTS (refer to VSA)

Vancouver City Directories online - 1911 to 1955, especially 1951

B.C. VITAL STATISTICS ON-LINE death (refer to BCVS)
Clippings
"The sea is a molten background
For tall straight trees
With arms that stretch
Upwards and love the breeze
Fronds of green mix with blue
And yield to the beauty
Of the earths evening hues."
From "Tone Pome" by Margaret Carter
Savary Pudding, Vol. 2, 1935

"On the walls of the studio shared by Margaret Carter and Irene Hoffar Reid are murals, landscapes, portraits in oils and conte, the latter a medium much used by the Old Masters."
From "GRADUATES IN ART" by Cintra
(unknown newspaper), April 25, 1936

MARGARET CARTER AND GEORGE GOUTIERE.
"A graduate of the Vancouver School of Art, Miss Carter is exhibiting drawings in wash, conte and charcoal illustrating phases of social life in which she has been interested for some time."
Vancouver Art Gallery Bulletin, Vol. 6, No. 2. October, 1938

HOME