Illingworth Holey Kerr (Buck)
August 20 1905 - 1989

Illingworth Kerr had a long and interesting career as an artist. He was born in Lumsden, Saskatchewan in 1905. From 1924 - 1927 he studied painting under Beatty, Lismer, J.E.H. MacDonald, and Varley at the Ontario College of Art in Toronto. He returned to Lumsden and opened a studio, painting mostly outdoor scenes made from sketches done on hunting and trapping expeditions further north.

In 1934 he had work in the RCA's 55th Annual exhibition, held at the Art Gallery of Ontario.

In 1936 he went to Europe, where among other activities, he studied art at the Westminster School of Art in London, and illustrated articles for Blackwood's magazine. He married and travelled in Europe before returning to Canada, living first in Montreal, then driving across Canada in 1939 to Vancouver.

In 1942 one of his paintings won the prize for best watercolour at the 1942 B.C. Artists exhibition at the Vancouver Art Gallery. After World War II started, Kerr worked as a painter in the illustration department at Boeing Aircraft's Plant 3 in 1943-44. In 1943 his watercolour "Qu'Appelle Valley" won the Bronze medal at the 12th Annual B.C. Artists' Exhibition held at the Vancouver Art Gallery. A biographical questionnaire filled out by Kerr prior to receipt of the medal is still on file at the Gallery's Library. The answer to question 8, "Exhibitions in which work has been shown" demonstrates his successful career to that date: "Royal Canadian Academy. Ontario Society of Artists. Canadian Exhibition, Toronto. National Gallery Travelling Show. Montreal Society of Artists. Saskatchewan Society - Saskatoon Society - Manitoba Soc. - and one-man shows - B.C. Artists." He was living at 2476 West 3rd, Vancouver, at the time.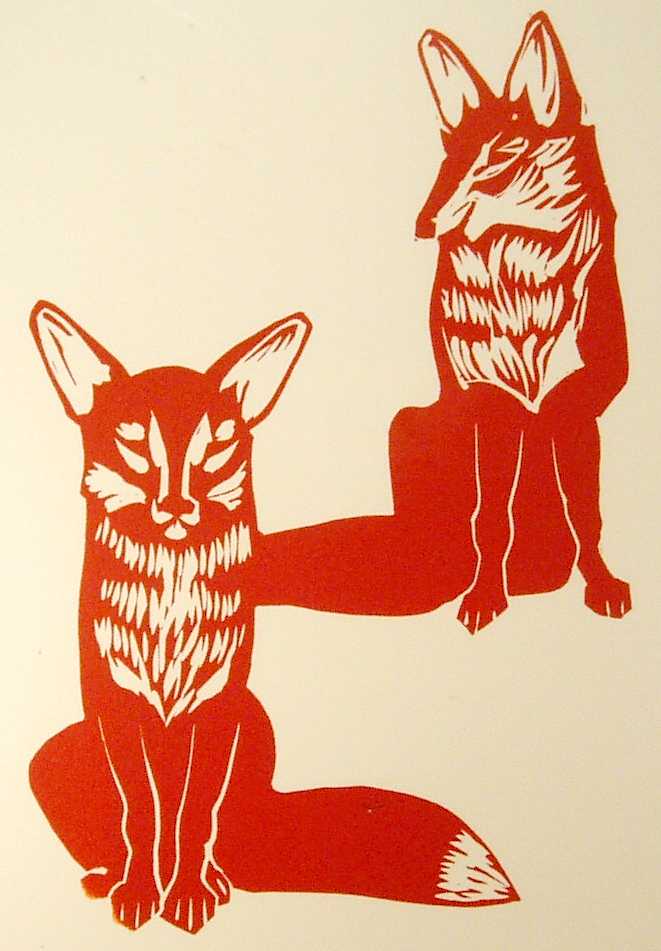 He exhibited in the B.C. Artists exhibitions from 1943 to 1946. He exhibited with the B.C. Society of Artists from 1944 to 1948, and 1951.

In 1945 Kerr joined the Vancouver School of Art as a member of the faculty. He wrote and illustrated a book titled "Gay Dogs and Dark Horses", which was published by J.M. Dent & Sons, Canada, who also published the writings of R.S. Sherman. Kerr also designed the cover and endpapers for the Canadian Parade Readers by Dent.

Kerr had a Duo Show with Ernest Lindner at the Vancouver Art Gallery, from March 5 - 24, 1946.

Kerr was on a list titled "Leading Vancouver Artists," provided to the Labour Arts Guild on April 10, 1946 by the Vancouver Art Gallery to assist in the Guild's call for entries to the second annual B.C. At Work exhibition.

In 1947, after two years at the Vancouver Art School, he moved to Alberta to take up the position of Art Director at the Provincial Institute of Technology and Art in Calgary, succeeding J.E.H. MacDonald (Group of Seven) in that position. His career continued successfully for many years after that, including solo exhibitions and the award of a Canada Council Senior Fellowship in 1960. He also wrote an autobiographical booklet simply titled "Illingworth Kerr".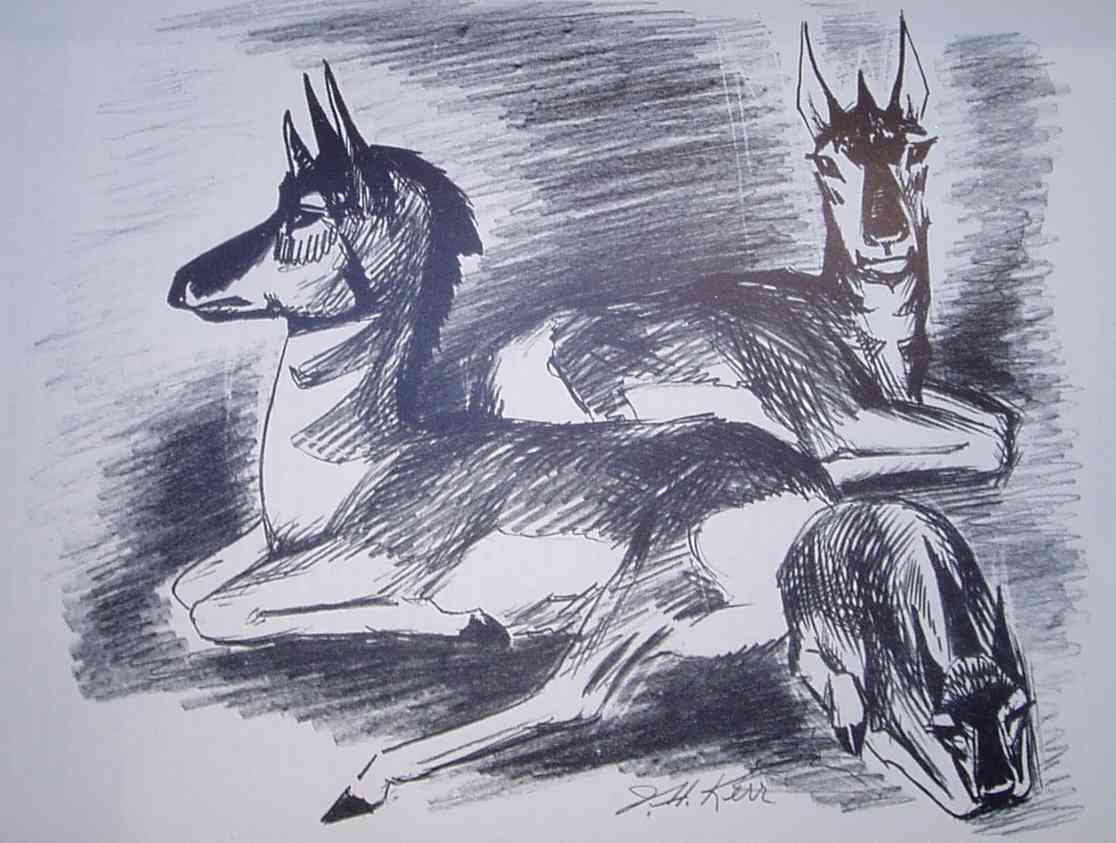 Kerr died in Calgary in 1989, tragically by shooting himself after having gone blind and unable to paint any more.
Exhibitions
SOLO EXHIBITIONS
GROUP EXHIBITIONS
References - BIBLIOGRAPHY
Refer to BIBLIO.
References - GROUP EXHIBITIONS
THE ALBERTA LANDSCAPE
1979 April 6 - May 13 at The Edmonton Art Gallery
No ISBN, n.p.; illustrated in colour and b&w
Includes essay, brief biographies of artists in exhibition
One work illustrated in colour by Kerr.
References - GENERAL
12th ANNUAL B.C. ARTISTS EXHIBITION - biographical questionnaire
1943, Vancouver Art Gallery Library file: B.C. Artists Exhibitions

CREATIVE CANADA - Volumes One & Two (refer to CC71)
More than a full column of information about Kerr.

THE MOUNTAINS AND THE SKY by Lorne E. Render
1974, Glenbow-Alberta Institute; published by McClelland and Stewart West
ISBN 0-7712-1001-2; 224 pages, illustrated throughout in colour and b&w
Includes biographical information on Kerr and seven of his paintings illustrated

THE SHELL CANADA COLLECTION (refer to SHEL77)

ARTISTS OF ALBERTA by Suzanne Devonshire Baker
1980; 98 pages; ISBN 0-88864-067-6; University of Alberta Press
Illustrated throughout in colour; 85 separate biographies
Artists include George Angliss, Kay Angliss, Illingworth Kerr.

ROYAL CANADIAN ACADEMY OF ARTS - EXHIBITIONS & MEMBERS 1880 - 1979 (refer to RCA81)

ART BANK CATALOGUE (refer to AB87)

MONTREAL MUSEUM OF FINE ARTS - SPRING EXHIBITIONS 1880 - 1970 (refer to MM88)

A DICTIONARY OF CANADIAN ARTISTS (refer to M)

THE CANADIAN ENCYCLOPEDIA (refer to CE00)

BIOGRAPHICAL INDEX OF ARTISTS IN CANADA (refer to BIAC03)
14 references listed for Kerr.

THE BOW - LIVING WITH A RIVER, edited by Gerald T. Conaty
Includes essays by G.T. Conaty, Daryl Betenia, Catharine Mastin
2004; ISBN 1-55263-634-8; Glenbow Museum, published by Key Porter Books Ltd.
160 pages, hardcover; extensively illustrated with artwork and historical photographs
Includes essays, select artist biographies, art and general bibliographies, index
Artwork by western artists includes Kerr

THE FECKLESS COLLECTION (refer to FECK18)
Clippings
"Saskatchewan Artist One of Four Who Decorated Canadian Pavilion"
The Montreal Gazette, May 7 1938




HOME