John A. Vanderpant
January 11 1884 - July 24 1939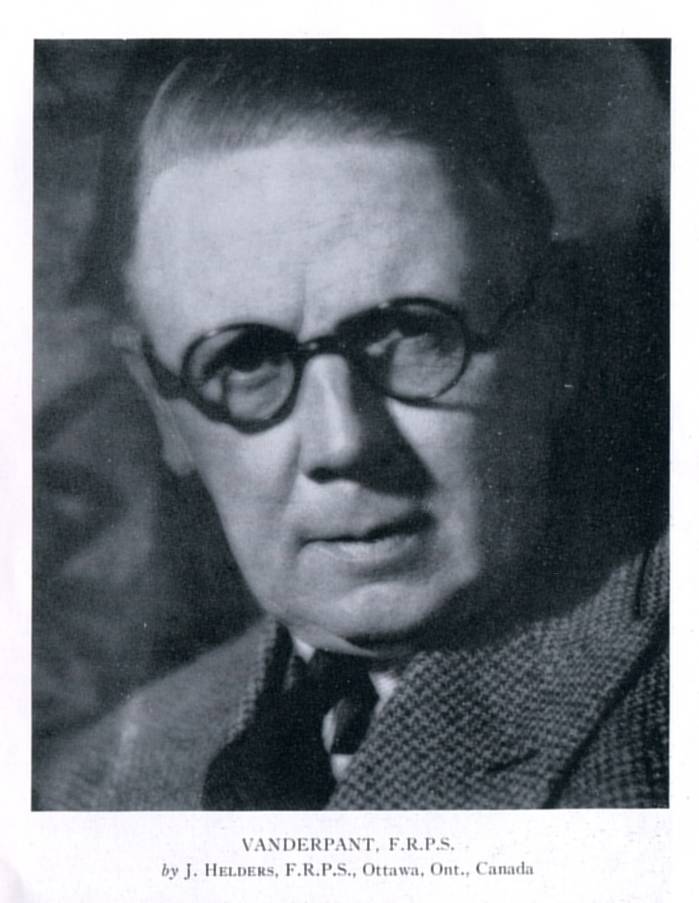 A 1930s photograph of Vanderpant

John Vanderpant was one of Vancouver's early and important photographers. He was born in Alkmaar, Netherlands, and came to Canada in 1911, moving to Okotoks, Alberta. In 1919 he moved with his family to New Westminster. In 1920 he organized the first New Westminster Photographic Salon. Three years later he organized the first New Westminster International Photographic Salon.

He was listed as an Active Member in the 1925 B.C. Art League List of Members.

In 1926 he opened The Vanderpant Galleries on Robson Street, in partnership with Harold Mortimer-Lamb. Vanderpant was an important contributor to the arts in Vancouver. He held Salons and Musicales in his studios on Robson Street, hosting local artists and art students alike, and treating them to imported music played on his phonograph while discussing art movements around the world, philosophy, literature, and mysticism.
The 1928 advertisement above was accompanied by a short article on his gallery, which noted that "it is the meeting place for the Arts and Letters Club, the lectures for the B.C. Art League are given in its artistic surroundings, and during the season, numerous musical concerts are arranged."

In 1928 he displayed a group of photographs at the Provincial Exhibition in New Westminster. He also served on the Jury for the First Annual International Salon of Water Colors, held in conjunction with the Photographic Salon and display of loaned artwork.

He exhibited ten photographs at the Canadian National Exhibition in 1930.

Vanderpant took portraits of many of Vancouver's artists and art supporters. His photograph of Henry Stone was included in the souvenir catalogue of the Vancouver Art Gallery's first exhibition in 1931. Other notables who had their portraits taken by Vanderpant include Frederick H. Varley and A.Y. Jackson of the Group of Seven; Vera Weatherbie, a founding student at the art school; Eric Brown, Director of the National Gallery in Ottawa; and Emily Carr.

He showed work in the B.C. Artists Christmas exhibition at the Vancouver Art Gallery in 1933.

He was Chair of the Jury of Selection for the Seattle Art Museum's annual Northwest Artists exhibition in 1934.

Cover image The Hand of Man, March 1934.
Harold Mortimer-Lamb Fond, courtesy Vancouver Art Gallery Library.

Vanderpant met British educator Marion Richardson when she visited Vancouver in 1934, and corresponded with her afterwards. The following two letters were included in a file on education for the arts that was mailed to me from Australia by retiring Professor Tony Rogers. The original provenance of the two letters is not known to me, it was possibly provided by the National Gallery as backup information to Dr. Roger's request for information on Marion Richardson's visit.
Letter to Marion Richardson dated August 10, 1934
Letter to Marion Richardson dated September 10, 1934

Vanderpant exhibited his work extensively, and had solo exhibitions in Vancouver, London England, Ottawa, Toronto, in the Netherlands, and in Seattle. He died in Vancouver in 1939, leaving behind a large legacy of his work. A number of his art photographs have recently sold at auction for more than $5,000.00 each for a black and white print.
Exhibitions
SOLO EXHIBITIONS
GROUP EXHIBITIONS

| | | |
| --- | --- | --- |
| DATE | EXHIBITION | ARTWORK |
| | | |
| 1930 Aug. 22 - Sept. 6 | CNE Toronto Salon of Cd. Photography | Chinese Jar |
| | | Red Cabbage |
| | | Towers of Today |
| | | Bowl |
| | | Books |
| | | Wrapping Paper |
| | | Morning After |
| | | Boxes |
| | | Spring |
| | | Elevator |
| 1933 Dec. 1 - 17 | VAG B.C. Artists Christmas Exhibition | Builders |
| | | An Arrangment |
| | | The Heart of a Cabbage |
References - BIBLIOGRAPHY
Refer to BIBLIO.
References - GROUP EXHIBITIONS
VANCOUVER: ART & ARTISTS 1931 - 1983 (refer to VAG83)

VISIONS OF BRITISH COLUMBIA (refer to VAG09)
References
THE FINE ARTS IN VANCOUVER, 1886 - 1930 (refer to THOM69)

FROM DESOLATION TO SPLENDOUR (refer to FDTS77)

ARTISTS IN CANADA 1982 - UNION LIST OF ARTISTS' FILES (refer to AIC82)

CANADIAN ART - FROM ITS BEGINNINGS TO 2000 (refer to CAN00)

THE FECKLESS COLLECTION (refer to FECK18)

VANCOUVER PUBLIC LIBRARY - B.C. ARTISTS FILES (refer to VPL)

CITY & PROVINCIAL DIRECTORIES 1926 (refer to DIR)

B.C. VITAL STATISTICS ON-LINE death (listing only) (refer to BCVS)
Clippings
"H.G. Cox and Vanderpant are showing art photographs, the former has one of his very latest entitled "Eve."
From "Bargains in Art" by D.S.M.
Vancouver Sun, December 1 1933




HOME