Mary Ann Rice
(Mrs. F.T. Schooley, Mrs. Mary Rice Schooley)
(m Frederick Theodore Schooley)
April 30 1868 - August 27 1963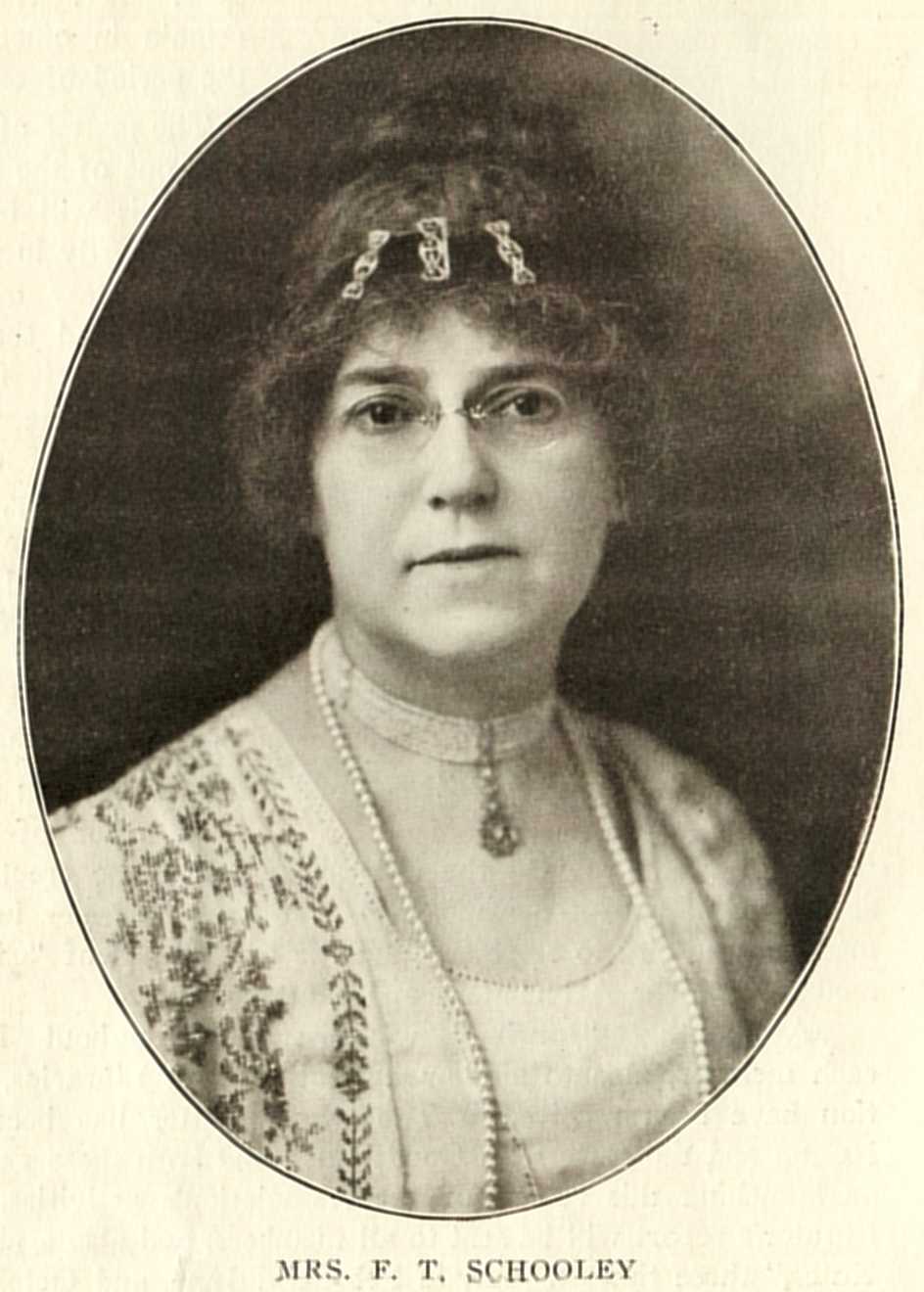 Mrs. F.T. Schooley was born in London, England, and came to Canada at about age 3. She later came to Vancouver, and had been in British Columbia since 1898, according to an entry form she filled out for an exhibition at the Vancouver Art Gallery.

She was a Director of the Art, Historical and Scientific Association of Vancouver, and also worked as a fundraiser for the B.C. Art League to help establish a civic art school and art gallery in Vancouver.

She exhibited her work with the B.C. Society of Fine Arts in September 1921, May 1924, and May 1925. She exhibited at the Vancouver Exhibition in 1924, 1925, and 1930, representing the Vancouver Sketch Club. She also exhibited with the Vancouver Sketch Club in 1923, in an exhibition held at the club rooms at 342 West Pender Street.

She later exhibited her work in the B.C. Artists exhibitions at the Vancouver Art Gallery, from 1932 - 34, and 1936-37, and had a solo exhibition there in 1935. She is also known to have had her work in at least one summer exhibition of the Royal Academy of Arts, England.

B.C. Vital Statistics shows that her husband died in Vancouver on January 28 1945 at the age of 79, Mrs. Schooley died in 1963 at the age of 95, occupation noted as "at home."
Exhibitions
SOLO EXHIBITIONS
GROUP EXHIBITIONS

References
THE FINE ARTS IN VANCOUVER, 1886 - 1930 (refer to THOM69)

BIOGRAPHICAL INDEX OF ARTISTS IN CANADA (refer to BIAC03)
3 references cited for Schooley.

B.C. VITAL STATISTICS ON-LINE death (refer to BCVS)
Clippings
"Mrs. F.T. Schooley, who, through social activities rising from the visit of Viscount Leverhulme, was unable to be present, contributed a tone poem in colour, a landscape in oils, fairly redolent of the warm skys and balmy airs of Italy."
From "Sketch Club Semi-Annual Art Exhibition"
B.C. Ladies' Mirror, December 15 1923

" ... in notable contrast to that of "Laguna Grove" by Mrs. Schooley in which a tired and overworked looking road disappears into a comfortable mass of trees to rest. The color masses are in the soft tones and line of the elder Crome. "Laguna Hills" is a companion picture in similar effects, but with distant hills for aspiration rather than trees for rest."
From "Exhibition of B.C. Society of Fine Arts (Second Notice)"
Vancouver Province, May 9 1924

"This, it is hoped, will be for a short time only, as, owing to the activity of the members of the B.C. Art League, notably one of our own directors Mrs. F.T. Schooley, some public spirited citizens have been induced to make the very handsome offer of $100,000 for the purchase of works of Art, provided the citizens authorize the erection of an Art Gallery for the accommodation of the same. So that there is every hope that an effort will now be made by the city to start erecting the long-talked of "Civic Centre," which will accommodate both the Art Gallery and Museum."
From "Curator's Report" by T.P.O. Menzies
Museum Notes, Vol. 1, No. 1, February 1926

"Mrs. F.T. Schooley is chairman of the Jubilee Committee group sponsoring the exhibition, and she herself shows a group of three still life pictures."
From "400 B.C. Pictures in Jubilee Art Show"
Vancouver Sun, August 15 1936

" ... Among those contibuting paintings and drawings are: ... Mary R. Schooley ... "
from "Noted Artists Offer Paintings For Red Cross" Vancouver Province (presumed), November 1942




HOME