YOU ARE NOT ALONE
SALON AM MORITZPLATZ, BERLIN, GERMANY
SEPTEMBER 3 - 13 2021

(edited poster)
The YOU ARE NOT ALONE exhibition was open from September 3 to 13 at the Salon am Moritzplatz. After Berlin, the exhibition will travel to Nice, France, where it will be shown in 2022. This is the first time my artwork has been exhibited outside of North America, and only the second time outside of Canada. Refer to NEWS 2021 page for more photographs.

Photo courtesy Humam Alsalim
---

MODERN IN THE MAKING
VANCOUVER ART GALLERY, 750 HORNBY STREET
JULY 18 2020 to JANUARY 3 2021
MODERN IN THE MAKING was a large and comprehensive overview of arts, crafts, and design in British Columbia from the mid-1940s to the mid-1970s. The entire main floor of the Vancouver Art Gallery was taken over by the show. A large and well-illustrated exhibition catalogue accompanied the exhibition.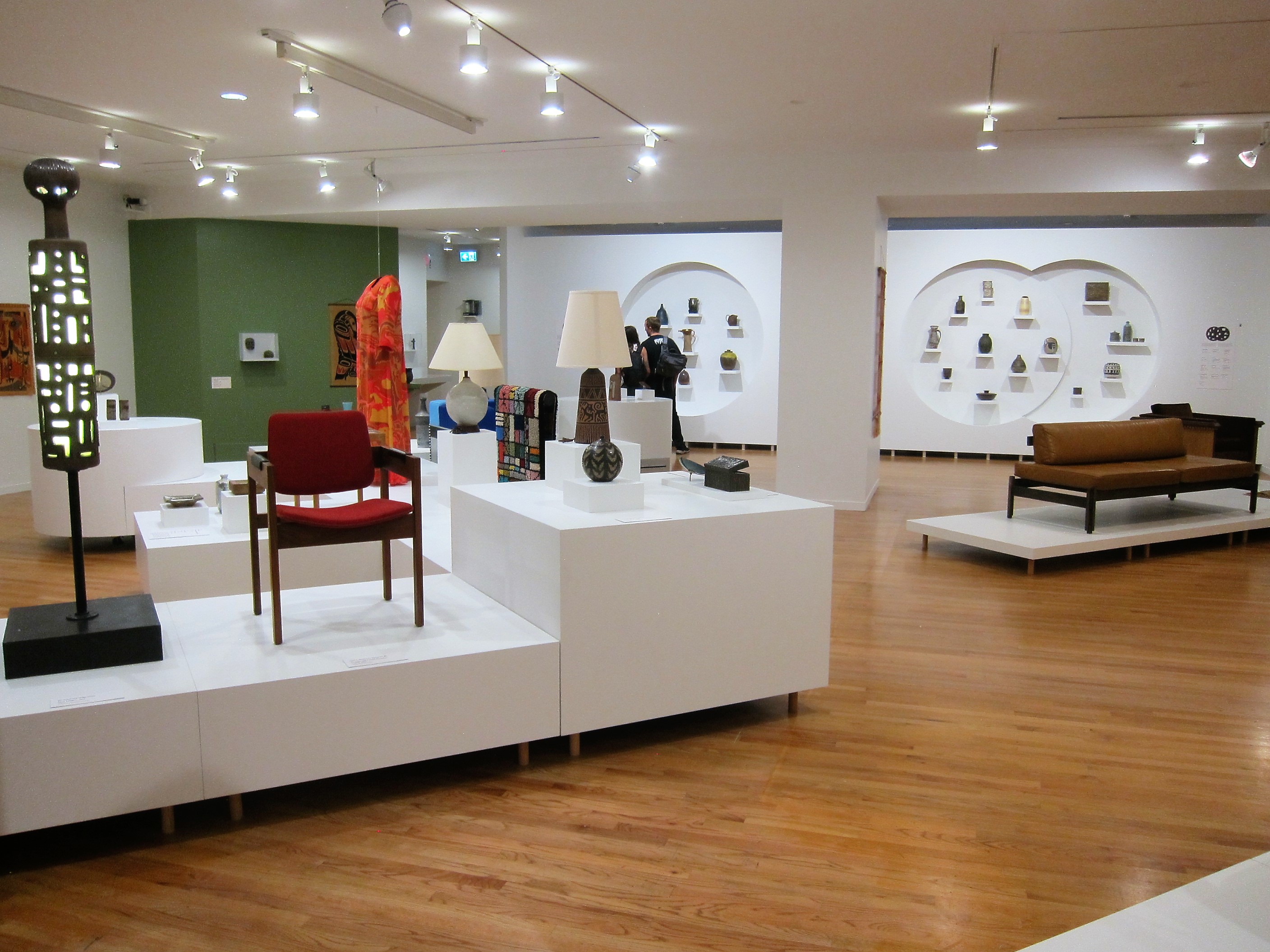 Installation views courtesy Allan Collier.

Installation views courtesy Allan Collier.
SIM ART ON DISPLAY AT PACIFIC ARTS MARKET January 8 to May 19 2020
1448 West Broadway, Vancouver (between Granville & Hemlock)

A good selection of drawings, prints, cards, and books.
*** CANCELLED *** NATURE HOUSE ART SHOW & WORKSHOP


***CANCELLED *** SIM TO SHOW WORK AT ART IN THE CITY
The West End Community Centre has hosted this event since 2006. when I was in the inaugural event! This year the show has an opening event on Friday May 1st, from 7:00 to 9:00 p.m. The show is also open on Saturday May 2nd from noon to 5:00 p.m., and on Sunday May 3rd from noon to 4:00 p.m.


LECTURE AT FERRY BUILDING GALLERY, WEST VANCOUVER
February 20, 2020
1414 Argyle Avenue, West Vancouver

I was asked if I was interested in giving a lecture at the Ferry Building Gallery during Heritage Week, February 2020. I suggested doing a talk on the historic artists and photographers of the North Shore. An extensively illustrated powerpoint presentation accompanied the talk.
The FERRY BUILDING GALLERY is in West Vancouver on the waterfront at the foot of 14th. Click on link below for the posted event information:
Ferry Building Gallery




ALCUIN SOCIETY WAYZGOOSE
October 19 2019
Alice Mackay Room, Vancouver Public Library, Main Branch
Once again the Alcuin Society invited me to participate in the Wayzgoose, a letterpress printing fair. I cut and printed a few new relief prints for the event, including a keepsake for the event, accompanied by a bookmark.



A view of the Sim Publishing table at the event.

CBBAG BOOK FAIR
Sim Publishing was asked once again to display work at the bi-annual Book Fair held by the Canadian Book Binders & Artists Guild, BC Chapter. The event was held Saturday, May 26, 2018, from 10am to 3pm, at the Vancouver Public Library (Central Branch) at 350 West Georgia Street, lower level. Due to the increased number of tables requested, VPL upgraded the Book Fair to the large room. The five hours passed quickly, with a continuous flow of visitors looking at work and asking questions.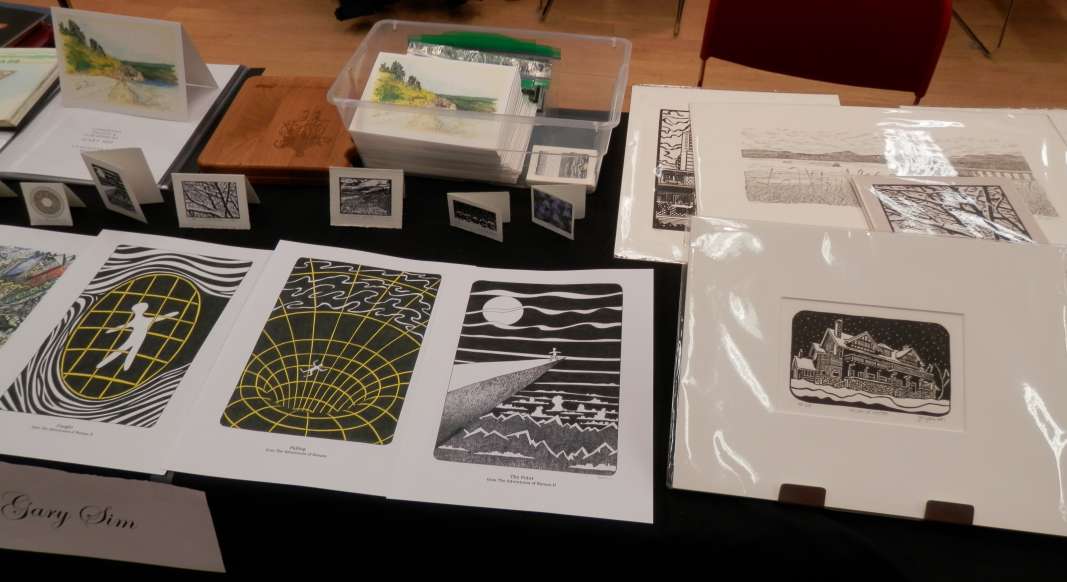 Sim table at the 2016 book fair.
BC ARTISTS - THE GARY SIM DONATION
January 23 - May 6 2018
National Gallery of Canada, Ottawa ON
The National Gallery of Canada Library & Archives has approved a bibliographic exhibition at the Gallery, based on selections from books, exhibition catalogues, and ephemera that Sim Publishing has donated to the Library & Archives over the past twenty years or so.
Refer to BC ARTISTS - THE GARY SIM DONATION for more information about the exhibition.

SIM SOLO EXHIBITION AT McGILL LIBRARY
November 26 2017 - January 29 2018
McGill Library, 4595 Albert Street, Burnaby BC
The Burnaby Art Gallery kindly invited me to have a solo exhibition at the McGill Library, as part of their ongoing outreach series of exhibitions there and at the Prittie Library. Curator Bob MacIntyre and I have agreed on the exhibition title: "SURFACE TENSION - RECENT WORK BY GARY SIM." The Curator visited my studio and we agreed to exhibit all of my large pencil/pen & ink drawings. Refer to SURFACE TENSION for more information about the exhibition.

VANCOUVER TRAIN EXPO 2017
November 11 & 12 2017
PNE Forum


Trial proof of second state of MOGUL 2-6-0
The Vancouver Train Expo was held at the Forum for two full days this year, and the organizers hoped to attract a larger and more diverse audience. In aid of this, they asked me to do a linocut printing demonstration at the show, printing a new image done from a recent Sim photograph of a narrow-gauge steam engine at Whitehorse, Yukon. The prints were for sale at a nominal sum, and as well, Railway Rock Gang books, artwork, cards, stamps, and other Sim artwork were available for purchase.

ALCUIN SOCIETY WAYZGOOSE
November 4 2017
Alice Mackay Room, Vancouver Public Library, Main Branch
Once again the Alcuin Society hosted the Wayzgoose, a letterpress printing fair. I participated again, showing new and recent work.

BLIND DATE - SEALED BID ART AUCTION
Thursday October 19 2017
Yaletown Roundhouse, 181 Roundhouse Mews, Vancouver
The Malaspina Printmakers Society fund-raiser this year had a different format. Many prints and other works on paper were available for a sealed-bid auction. The event was a success, and all three prints that I consigned/donated were sold.

Refer to Malaspina Printmakers Society web site for more information on the event, including a list of works that were in the auction.

VANCOUVER RARE BOOK, PHOTOGRAPH & PAPER SHOW
Oct. 7th 9 a.m. to 5 p.m.; Oct. 8th 10 a.m. - 3 p.m. 2017 (Saturday & Sunday)
Heritage Hall, 3102 Main Street, Vancouver
"Top dealers from British Columbia, Alberta, Manitoba, Ontario, and Quebec will offer a selection of significant antiquarian and sociocultural material. Admission $10.00." (from show flyer)
Refer also to show website at Vancouver Rare Book.

Burnaby Art Gallery: 50th ANNIVERSARY CELEBRATION
July 13 2017 from 7 to 9 p.m.
Burnaby Art Gallery, 6344 Deer Lake Avenue, Burnaby
The Burnaby Art Gallery celebrated their 50th year of operation in a number of ways, including publication of a book titled "The Ornament of a House" about their history, exhibitions, and artists. As well, they have commissioned a limited edition print titled Gallery in Summer from me for gifting to their supporters. And, of course, there is a celebratory exhibition, consisting of 50 masterworks from the Gallery's permanent collection that continues until the fall. See also News page.

Hand-drilling stonework on the Gallery in Summer linocut.
---

Front and back cover image for The Summer Book
Mother Tongue Publishing: THE SUMMER BOOK book launch
June 23 2017: Sylvia Hotel, Pendrell Room, Vancouver 4-6 p.m.

MTP launched THE SUMMER BOOK in June at the Duthie Gallery on Salt Spring Island. On June 23 they are launching it at the historic Sylvia Hotel in Vancouver. I contributed 18 images, including a pencil sketch, brushpen drawing, pen & ink drawings, relief prints and two copper plate etchings. These accompany 24 short stories written about summer by BC authors. Eight of the images were done as full 2-page spreads, which is very flattering. A dozen images by other artists round out the selection of original work included in the book. It's a very nice publication at a very reasonable price!!!



Pencil drawing "View from Summit, Lighthouse Park"
Vancouver Historical Society:
Sim lecture on EARLY ART & ARTISTS IN VANCOUVER
Thursday February 23 2017, 7:30 p.m.
Museum of Vancouver, Kits Point
Refer to EARLY VANCOUVER ART & ARTISTS for more information.
In this illustrated hour-long lecture I gave an in-depth review of the early artists in Vancouver - who they were, where they worked, how they made a living as artists, and the groups and exhibitions that they organized.

Burnaby Art Gallery: SEASON'S GREETINGS
Opening reception November 3 2016, 7 - 9 p.m.
Burnaby Art Gallery, 6344 Deer Lake Avenue, Burnaby
Limited edition print Gallery in Winter was on exhibit in this winter/Christmas themed exhibition, which was open from November 4 2016 through to January 7 2017.

Canadian Bookbinders & Artists Guild 2016 exhibition
July 16, 2016, 10:00 a.m. to 1 p.m.
Vancouver Public Library, Georgia Street branch, downstairs
Sim Publishing was invited to participate in this annual exhibition again, having shown once before in 2014. See UPCOMING EVENT: C.B.B.A.G. EXHIBITION AT VPL JULY 16 for additional information.

BC Historical Federation Annual Conference: REVELSTOKE REVISITED
May 26 - 28, 2016
Revelstoke BC
Sim Publishing is a corporate member and sponsor of the BC Historical Federation. This umbrella organization helps out many of the groups throughout the province who are interested in our past, and they all deserve our support. Please refer to www.bchistory.ca for more information. Sim Publishing donated two copies of Railway Rock Gang and one framed print of Shucking Shed to the conference as door prizes.


Burnaby Art Gallery: NEW ACQUISITIONS
February 4 2016, 7 - 9 p.m.
Burnaby Art Gallery, 6344 Deer Lake Avenue, Burnaby
Two limited edition Sim prints were on display, and two Jack Wise artworks recently donated to the gallery. The exhibition was open from Feb. 5 to March 27.

ALCUIN SOCIETY WAYZGOOSE
October 31 2015
Main Branch, Vancouver Public Library
The Wayzgoose is a letterpress printing fair, sponsored by the Alcuin Society. Numerous private presses are represented at the fair, and associated books arts such as marbling and paper-making are demonstrated throughout the day. Although Sim Publishing will not be represented this year (we printed and gave away keepsakes at the past two fairs), it is still a highly recommended event to attend. You are guaranteed to come away with keepsakes and inspiration.

CIN CIN 25TH ANNIVERSARY PARTY
Sept. 10, 2015
Cin Cin Restaurant, Robson St., Vancouver
I was happy to receive an invitation to Cin Cin Restaurant's recent 25th Anniversary party. Chefs Andrew and Stefan and their team roasted and grilled food over big wood fires on Robson Street all day, and the resulting food was excellent! Bar Manager David W. and his team designed 6 cocktails for the evening, and wine and champagne flowed freely. Representing the Toptable Group's new owners the Aquilini family, Michael Doyle gave a short speech thanking everyone for contributing to the first 25 years. Bob Murphy's jazz quartet kicked up their heels in a number of excellent sets.

UPDATE: Bob Murphy passed away a few weeks after this event, marking the end of his extensive career as an excellent jazz musician. He will be missed by many players and listeners alike.

MAYNE ISLAND TRIP (a holiday)
June 2015
Miner's Bay, Mayne Island BC
I had never actually stepped foot on Mayne Island until I got off the floatplane to visit friends for a few days. From their home in Miner's Bay (just steps from the floatplane landing and the neighbourhood pub) we forayed all over the island.

THE ART OF THE BOOK (lecture series)
May 14, 2015
Langley Centennial Musuem
Jane Watt from the B.C. Historical Federation asked if I would be interested in doing a talk and demonstration on artists' books, and the process of making prints for them. The event is one of a series of evening lectures titled THE ART OF THE BOOK. I agreed, and will be at the Langley Centennial Museum on Thursday May 14th from 7 to 9 p.m. demonstrating how I use my nipping press to make prints and assemble books. I will show some of the prints, folios, and books in progress that I'm working on. Wine and snacks will be available (by donation). More information on the series is available from the link above, and on the Langley Centennial Museum website. The lecture series starts April 9th and continues through to May 28th

TRAINS 2014
November 9, 2014
Burnaby
One of the attendees at my January 2014 Railway Rock Gang lecture at Vancouver Public Library was Peter Mueller, the organizer for the TRAINS 2014 model railroad conference in Burnaby. He asked me to be the after-dinner speaker at the gala banquet that wraps up the weekend, and I have agreed. A modified slide show and talk was presented to an attentive audience, with a number of interesting questions asked afterwards. A goodly number of copies of RAILWAY ROCK GANG were purchased (ably assisted by my friend Jen) making it a good evening for Sim Publishing. We drove back to town in a dense fog that cleared up only when we reached the drive. My new 4-wheel dolly performed well hauling books and marketing material around.

VANCOUVER ANTIQUARIAN BOOK FAIR
October 4 & 5, 2014
Robson Square, Vancouver
For two days a number of antiquarian book dealers had a room full of interesting and rare material. An extensive website for the book fair provided floor plans, a list of dealers, and information on selected items for sale. The event was well attended with an amazing assortment of rare and unusual publications for sale. I wandered away with a number of items, including two copies of an etching by Harold Thomas Faulkner Smith, re-struck by New Leaf Editions on Granville Island. The plate was drawn at least as early as 1932.

SCENES FROM WESTERN CANADA EXHIBITION
September 30 - October 12, 2014
FCA Gallery, Granville Island
Two recent large pencil drawings (Queen Charlotte Harbour and The Sentinel) were juried into this exhibition, see also NEWS page. The well-attended opening reception was held on OCTOBER 2nd from 6 to 8 p.m. My drawings received numerous positive comments, but alas did not win one of the exhibition prizes, were not purchased, and were not published in the FCA journal. Also, one frame had its glass broken (a small crack in the lower corner) which had to be replaced at my own cost, so the event was a financial loss in exchange for some exposure. Oh la.

MALASPINA PRINTMAKERS SOCIETY :
101 PRINTS
September 5, 2014, 7 to 11 p.m.
181 Roundhouse Mews, Vancouver
Sim Publishing donated limited edition print RAIN FOREST by Jack Wise (1928 - 1996) RCA to this event. The image was printed at New Leaf Editions in an edition of 75 in 1991. The print was editioned, titled, signed, and dated by Wise in pencil, and chopped with Wise's stamp in red. There is a New Leaf blind stamp lower right.
According to information issued with the print, the edition is "seven-block Japanese woodcut impressed eighteen times. Image is 14" by 10" (35 cm by 25 cm)." This information and an artist's statement by Wise were included with the print. The print was one of the early selections at the event. See also Malaspina Printmakers Society.

Note: photo of image has uneven lighting.


B.C. CHAPTER OF CANADIAN BOOKBINDERS & BOOKS ARTISTS GUILD:
2nd ANNUAL BOOK ARTS FAIR
June 21, 2014, 10:00 a.m. - 1:00 p.m.
Sim Publishing was asked to participate in the second annual book arts fair at the main branch of the Vancouver Public Library. There were a number of exhibits including handmade books, paper, paper marbling, and examples of related book arts. See photos on News page.


B.C. HISTORICAL FEDERATION ANNUAL CONFERENCE: COSMOS
June 6 - 7, 2014.
Sim Publishing was a corporate sponsor of this conference for the second year in a row, and also had a table at the book fair. The conference was held in Cloverdale. See News 2014 page.


SIM ILLUSTRATED LECTURE: EARLY ART IN VANCOUVER - 1890 to 1950
Thursday April 24, 2014.
SIM LECTURE CANCELLED, JOHN ATKINS TO LECTURE INSTEAD


WINTER TRIP TO OTTAWA
January 22 - 25, 2014.
Visits to National Gallery of Canada, National War Museum, Ottawa Airport


RAILWAY ROCK GANG SLIDE SHOW & LECTURE
Wednesday January 15, 2014.
Main Branch, Vancouver Public Library.
7:00 to 8:30 p.m., Alma VanDusen Room


ALCUIN SOCIETY ANNUAL BOOK AUCTION
Saturday November 16, 2013.
University Golf Club, Vancouver.


ART BOOK FAIR
Saturday/Sunday October 5 & 6, 2013.
Vancouver Art Gallery, downtown Vancouver.


ALCUIN WAYZGOOSE
Saturday October 5, 2013.
Vancouver Public Library, downtown Vancouver.
Sim Publishing will be demonstrating relief printing and giving away keepsakes.


ANTIQUARIAN BOOK FAIR
Saturday September 28, 2013.
Robson Centre, downtown Vancouver.
&nbsp Sim Publishing will be selling art books to benefit the Alcuin Society.


RAILWAY ROCK GANG BOOK LAUNCH
Thursday September 26, 2013.
Le Gavroche Restaurant, 1616 Alberni, downtown Vancouver.
The launch party for this exciting full-colour 196-page book.
There was a book signing, art display, rock gang movie, and slide show.


RAILWAY ROCK GANG RADIO INTERVIEW
Tuesday September 24, 2013.
Radio station KZFR, Chico, California
A 55-minute interview about working on the railroad and environmental issues.


JOHN KOERNER CELEBRATION
June 9, 2013.
Burnaby Art Gallery, Burnaby.


SIM ART SALON
June 2, 2013.
Le Gavroche Restaurant, Vancouver.


BC ARTISTS AWARDED CERTIFICATE OF MERIT
May 11, 2013.
Kamloops, BC


MALASPINA PRINTMAKERS 101 PRINTS
October 28, 2011.
Roundhouse Community Centre, Vancouver.


SUMMER GALLERY
June 29 - August 26, 2010.
FCA Gallery, Granville Island, Vancouver.


MID-MAIN ART FAIR
June 13, 2010.
Heritage Hall, Main Street, Vancouver.


SEPTESSENCE
June 1-13, 2010.
FCA Gallery, Granville Island, Vancouver.