SIM PUBLISHING
Home Publications Artwork News Links About
---
NEWS - 2018
2017 - 2016 - 2015 - 2014 - 2013 - 2012 - 2011 - 2010 - 2009 - 2008 - 2007 - 2006 - 2005 - 2004
---
All text, photography and artwork is by GARY SIM unless noted otherwise.
---
January 23: BC ARTISTS EXHIBITION NOW ON AT NATIONAL GALLERY
Sim Publishing is very pleased to announce that the National Gallery of Canada in Ottawa is sponsoring a bibliographic exhibition at the Gallery from January 23 to May 6, 2018. The title of the exhibition is BC ARTISTS - THE GARY SIM DONATION. An exhibition catalogue has been produced (in English and French) for the show, which will highlight a number of books, exhibition catalogues, and ephemera donated by Sim Publishing to the National Gallery over the past 20 years.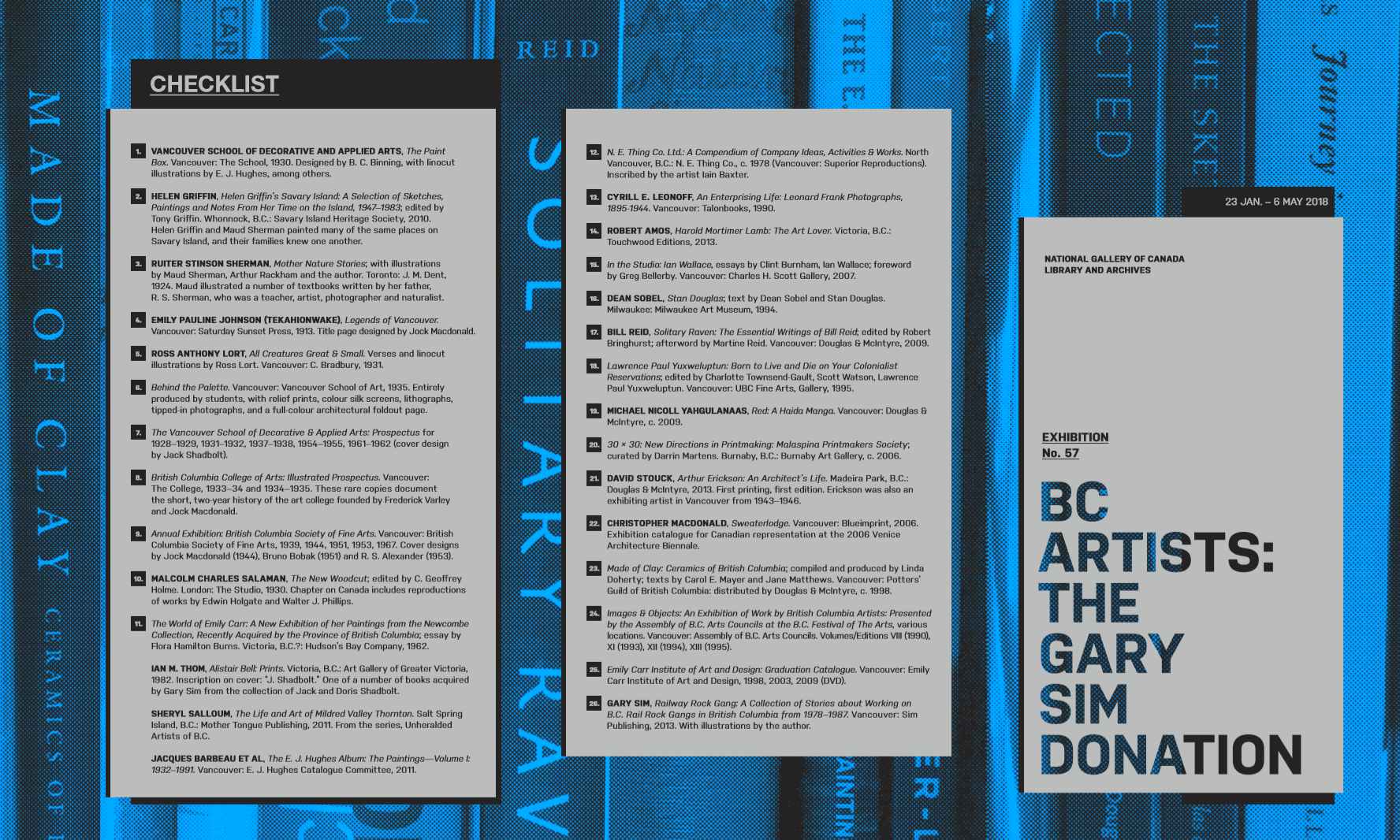 This is quite an honour, and is a significant achievement and recognition for not only my donations but also for my BC Artists project itself. Earlier donations to the NGC were recognized when my name was added to the "125 YEARS OF DONORS" wall in the Gallery's entry promenade, as well as being listed in an NGC publication of significant donations to the Library and Archives over a ten-year period.

The head of NGC Library and Archives, Cyndie Campbell, asked me a few years ago about my interest in the idea, and of course I said yes, and my large donations of the past three years probably helped this show be approved. At least two or three people at the Gallery worked on the show, partly because the exhibition was scheduled to open quite soon after the decision was made to put it on. Now I have to decide: fly to Ottawa or not?

Refer to BC ARTISTS - THE GARY SIM DONATION for more information.
---
Home
Copyright 2018