SIM PUBLISHING
Home Publications Artwork News Links About
---
NEWS - 2013
NEWS ARCHIVES - 2012 - 2011 - 2010 - 2009 - 2008 - 2007 - 2006 - 2005 - 2004
All text, photography and artwork is by GARY SIM unless noted otherwise.
---
May 14: BC ARTISTS RECEIVES CERTIFICATE OF MERIT

Conference poster with Sim Publishing logo (bronze sponsor).

Sheryl Salloum nominated me for the Certificate of Merit, and then I found out that it was being awarded to me. So, I thought about going to Kamloops to receive the award. After I decided to do that, I thought that I should sign up for the whole conference, and make it more worthwhile attending, so I did. Then, I thought about becoming a sponsor of the event, even though it was relatively last minute, and signed up as a bronze sponsor. This entitled me to such perks as having my logo on the conference posters, programmes, and web site. The photo above shows my logo on one of the large display boards.

Nicola Lake, driving up the old 5A from Merrit to Kamloops.

The weather turned good just as I was starting the week off, and it continued to be hot (30 to 35 degrees C.) and sunny from Wednesday to Friday. Saturday dawned cloudy and a few degrees cooler, which was somewhat of a relief.

Receiving the Certificate from Federation President Barb Hynek
Photo: Derek Hayes, courtesy B.C. Historical Federation

A happy Sim receives the B.C. Historical Federation CERTIFICATE OF MERIT for his BRITISH COLUMBIA ARTISTS project. I gave a very short acceptance speech, along the lines of "Thank you very much for this award. I've been researching the project for fifteen years, writing it for ten years, have had six award nominations along the way, and received one award. Thank you."

Meeting The Honourable Judith Guichon, OBC, Lieutenant Governor of British Columbia
Photo: Derek Hayes, courtesy B.C. Historical Federation

The Lieutenant Governor of British Columbia is the Honorary Patron of the Historical Federation. As it happens, her Honour is from Kamloops, and attended the conference on Saturday. She gave a talk on the history of the Guichon Ranch in the Nicola Valley, toured the book room, and attended the Awards Banquet. In the photo above she's been going around the room greeting attendees at the banquet, this was the third time we'd spoken that day so it was a bit of "hello again" which we both thought was funny.

The Lieutenant Governor and her military escort in the book room. Photographer Derek Hayes on the left.

Two buildings at Tranquille, one of the conference field trips.

Antique car show at Tranquille, derelict building beyond.

Part of the CN Rail yard in Kamloops, for the railway buffs.

Thompson River valley west of Kamloops.

This reminds me of the song about "little boxes on the hillside" ... the boxes are much bigger now.

Nicola Valley.

The drive back home on Sunday was relatively uneventful. I stopped a number of times to take photographs, but ploughed straight through once I passed Merrit. There were some showers going over the Coquihalla, then dry from Hope onward. The changing clouds made for some interesting pictures. In the photo below, the center span of the "old" Port Mann bridge is visible on the right. The bridge has been taken out of service and is actively being demolished. This is probably the last time I'll see it.

Driving home over the new Port Mann bridge, the old bridge on the right is being demolished.
---
May 1: TWO-TONE BUILDING STARTS TO GET A MAKE-OVER
A major building restoration project is in progress on a well-known - dare I say "landmark" - high-rise building in downtown Vancouver. The photo above shows a suspended scaffold structure that will be lowered down the face of the building as each level's windows are replaced. Window seals on many of the glazing units have failed, according to news reports, so the entire glazing system on the top half of the building will be renewed. When complete, the entire building will apparently have only one colour of glass (and it won't look like this).
---
April 26: NEW PENCIL DRAWINGS NEARING COMPLETION

Snippets of two large new pencil drawings, one of Sombrio Point, Vancouver Island & the other of Queen Charlotte Harbour, Haida Gwaii. The waves smashing into the shoreline at Sombrio Point were the largest I had ever seen. The drawing is composited from a number of 35mm film photographs taken at the time, sometime around winter 1975-76. The drawing of Queen Charlotte (City) harbour is based on a 14 megapixel digital picture taken October 27, 2012, the day of the 7.7 magnitude earthquake. Refer to news 2012 for stories about that.
---
April 25: HMCS VICTORIA ARRIVES IN VANCOUVER HARBOUR

April 25: HMCS Victoria and attendant ships

I haven't seen a submarine in the harbour for quite a while, although I'm sure they have been around. This submarine is a "hunter-killer" class, covered in rubber anechoic tiles to help keep it undetectable underwater. It was purchased "used" from the British navy, and spent an unfortunately long amount of time in drydock being refitted and updated for Canadian service. The vessel is here taking part in a joint naval exercise that includes British and American ships.
---

April 5: An unusual heavy-lift vessel at anchor in Vancouver Harbour.
---
April 5: BC ARTISTS REVIEWED IN OPUS NEWSLETTER
Chris Tyrell-Loranger, long-time writer in the Opus Art Supplies Visual Arts Newsletter, added a short review of BC Artists to his latest article in the April 2013 newsletter issue #291. The article on page 6 is titled "Artists Must Multi-Task" and I agree whole-heartedly with that.

Readers of these NEWS pages will remember my news items about Chris writing a chapter about me in his most recent book on art marketing titled "Making It! Case Studies of Successful Canadian Visual Artists." He is currently in final rehearsals for his latest venture, a live musical play titled KNOCK, KNOCK that he has not only written, but is performing in ... the play has a short run booked at the PAL Studio Theatre from April 18 to April 21 (the April 18 performance is already sold out).

The Theatre is at 581 Cardero Street (just off Cardero & Georgia), and tickets for Friday night, Saturday night, and the Sunday matinee may still be available from Brown Paper Tickets. The play is also being used as a successful fundraiser for the adjacent Performing Arts Lodge.
---
March 28: BC ARTISTS TO RECEIVE AWARD FROM BRITISH COLUMBIA HISTORICAL FEDERATION
A letter has been received, informing us that the Sim Publishing project BRITISH COLUMBIA ARTISTS will be awarded the B.C. Historical Federation CERTIFICATE OF MERIT. The award will be presented at the Federation's annual conference in Kamloops on May 11. Thank you to the Selection Committee for this honour. Thanks again to Sheryl Salloum for the nomination (see news item below). A photograph of the award (and a happy publisher) will be posted when available.
---
March 25: SIM PUBLISHING ARTICLE IN B.C. HISTORICAL FEDERATION NEWSLETTER
The March newsletter from the B.C. Historical Federation has arrived, containing the first Sim Publishing advertisement placed with the Federation, as well as a short article on Sim Publishing. The article is an introduction of a new corporate member of the Federation (Sim Publishing) to the existing members, and is a new little "bonus" to receive.
---
March 24: SIM PUBLISHING INVITED TO 2013 ALCUIN WAYZGOOSE
Sim Publishing has been invited to present at the Alcuin Society Wayzgoose event this fall. A printing demonstration will be given, and original relief-printed keepsakes will be given away to attendees. Further details (date, time, location) will be posted when available. We hope to see you there!
---
March 22: VISIT TO HMCS DISCOVERY TO SEE R.S. ALEXANDER MURAL
Some time ago I met Renee Alexander, a calligrapher, and the daughter of R.S. Alexander, an early Vancouver artist. Renee showed me photographs of her father painting a mural during WWII at HMCS Discovery, the reserve naval base on Deadman's Island in Coal Harbour, Stanley Park.


The original main building, harbour beyond.

I finally got around to getting in touch with the naval base to see if the mural was still there, and if I would be able to visit to see it. The answer was yes on both counts, so I arranged for a visit with Renee. In all my life in Vancouver I had never stepped foot on Deadman's Island, so it was an interesting visit in a number of ways.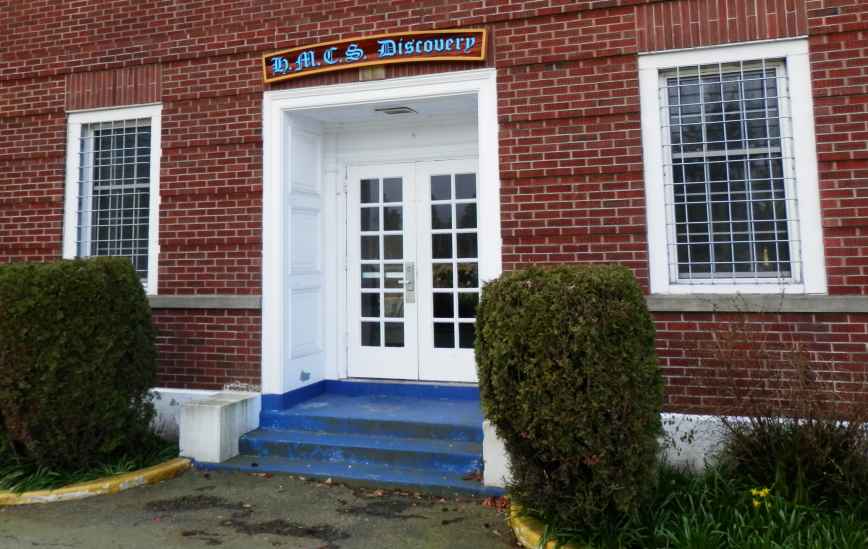 The original main building, front entrance.

I caught a taxi from the office, and got out at the seawall. The Commissionaire was waiting at the guard house, and gave me permission to come aboard. I walked over the bridge and stepped foot on the island for the first time. Master Seaman Brendan Richardson, the ship's Information Systems Administrator, met Renee and I at the front door and gave us a tour of the main building.

The mural is upstairs in a lobby just outside the Officer's Mess. It is in wonderful condition given not only its age (completed 1945) but also the fact that HMCS Discovery is on an island completely surrounded by a moist, salty, marine environment. The mural's colours are still rich and vibrant, possibly because the mural was painted in a location where it does not receive any direct sunlight.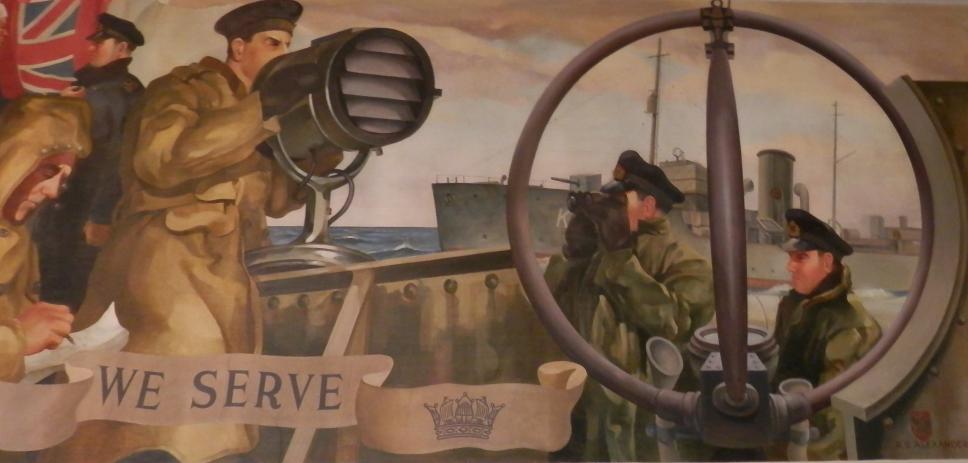 Mural detail, right side.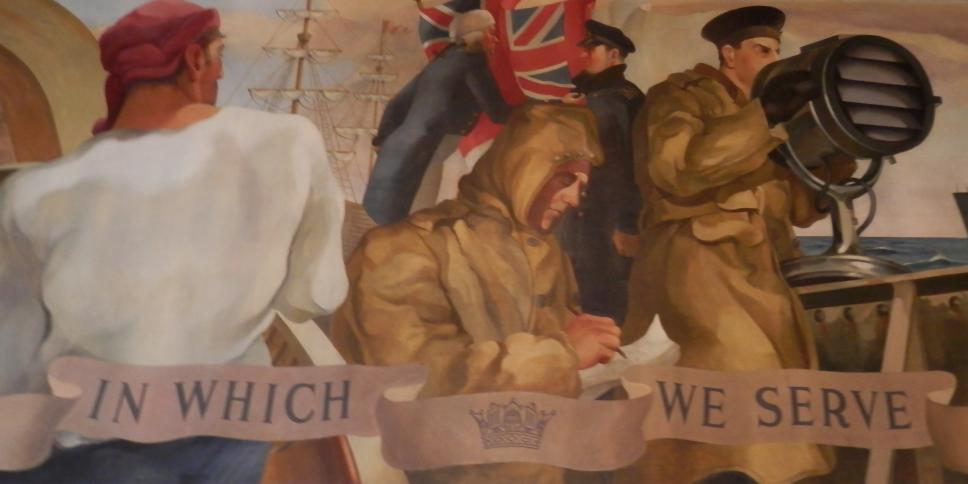 Mural detail, center.

Mural detail, left side.

Robert Alexander painting the mural 1944 - 1945.
Photograph courtesy Renee Alexander

It was great to see this piece of art history at last. I had printed out copies of my R.S. Alexander biography from BRITISH COLUMBIA ARTISTS, which includes the b&w photograph above, and gave copies to Master Seaman Richardson and Renee for their records. Apparently there were no records on board related to the creation of the mural, so they were happy to have a lot more information available on the artist and his work.

The Officer's Mess. Model of HMCS Ontario in foreground.

We completed the visit with a tour of the Officer's Mess, which is quite a magnificent club room, where one can easily imagine the hundreds of naval stories that have been told there over the years. There are numerous naval paintings on display, including a magnificent large oil on canvas of the British battleship HMS Hood in First Narrows during its visit to Vancouver in the 1930s. Many thanks to HMCS Discovery for permission to visit.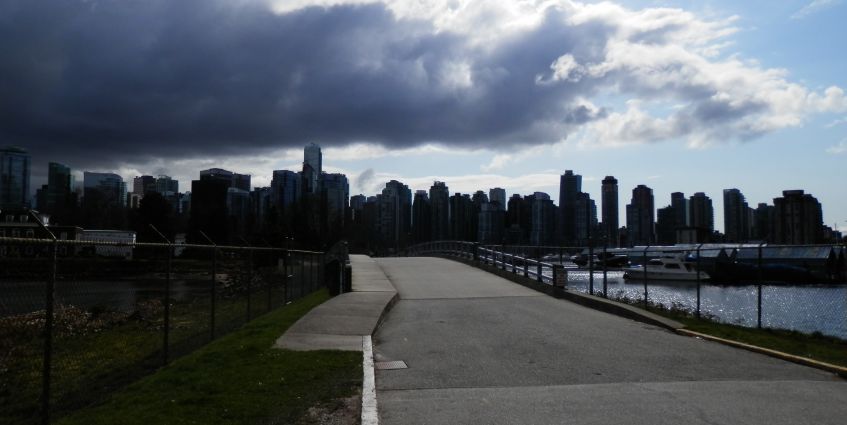 The bridge to Deadman's Island, downtown and West End beyond.

There was an arctic front blowing from the northwest, and large dark clouds were moving around dumping isolated snow showers on selected parts of Vancouver including English Bay. It cleared up and I walked back to the office, a bit of a brighter view below.


Downtown and West End from Coal Harbour.
---
Mar. 9: DAMIAN MOPPETT INSTALLATION AT "OFFSITE"
One of the ongoing series of installations by various artists at the Vancouver Art Gallery's satellite outdoor gallery space in the 1100 block Georgia Street.
---
Feb. 23: BEATRICE LENNIE SCULPTURAL WALK
I am very fond of the sculptural work by early Vancouver artist Beatrice Lennie. There are a number of her works available for viewing around Vancouver, although they are typically hard to find if you don't know where to look.

In 1940 she was commissioned to do two sculptural panels flanking the main entrance of the new Shaughnessey Hospital's main entrance. That entry is now enclosed in an interior courtyard where it is not easy to find.

View of original hospital main entry with Lennie sculptures to the left and right of the doors.

Detail, panel to right of the doors (Doctor and soldier).

Detail, panel to left of the doors (Nurse and soldier).

Heritage plaque added as part of Vancouver's 125th anniversary.

St. John Anglican church on Granville St. - Lennie reliefs.

St. John Anglican church - Lennie relief over door (detail).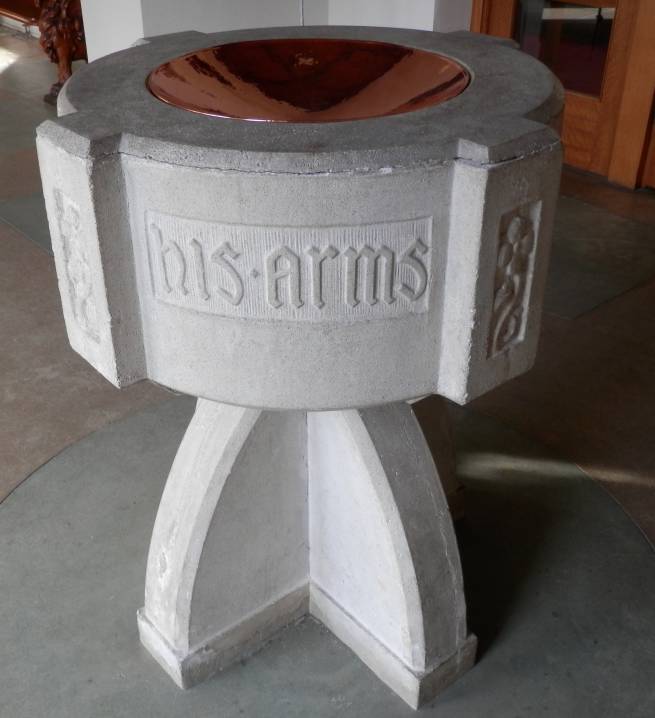 St. John Anglican church - Lennie baptismal font.
---
Feb. 23: VAN DUSEN GARDENS EDUCATION CENTRE "ART MOB"

Education Centre viewed from across the pond.

Following the opening of Van Dusen Garden's new visitor centre on Oak Street, the Parks Board announced plans to demolish the 7,000 square foot "Education Centre" that is nestled into a hillside at the back of the park. It is currently used as an administration office.

View of interior.

Heritage Vancouver would like to retain the building, and is working to see if it can be saved and re-purposed. An "ART MOB" event was held on Saturday for those interested in the building. As luck would have it, we were able to tour the inside of the building. It is quite an amazing structure, and it would be a great pity if it were to be demolished. It is in excellent condition, despite a general lack of maintenance on the building.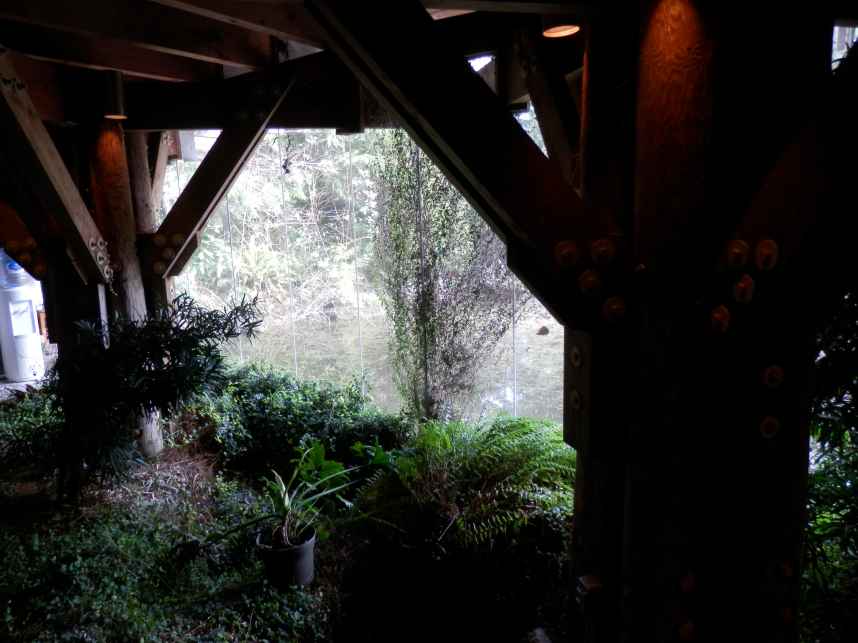 Looking out from inside.

Dedication plaque.
---
Feb. 20: LE GAVROCHE RESTAURANT PUTS SIM ARTWORK IN PRIVATE SALON

View of Le Gavroche private dining salon. Artwork from left to right:
Nine O'clock Gun, Garibaldi, Mt. Waddington & Scimitar Icefall, The Descent.

The relocation of my artwork took me by surprise a little. The owners had mentioned that they were going to redecorate but didn't say when. I went over for lunch last Monday only to find the restaurant closed for renovations. However, the new location of the artwork in the private dining salon gives a much closer and more intimate view of the artwork than in the former upstairs location. Refer also to Le Gavroche for additional information.
---
Feb. 16: SCULPTURE SOCIETY OF BRITISH COLUMBIA EXHIBITION OPENING
The exhibition by the SSBC titled "CELEBRATION OF NATURE - FLORA AND FAUNA" opened today at the Bloedel Conservatory at Queen Elizabeth Park. The show runs until March 17, 2013.

Patinated bronze sculpture by Alexander Schick

Sculpture by Claire Murgatroyd

I found out a week later that the Conservatory was recently in danger of being demolished, but has apparently been "saved" from that fate. It seems that the current Vancouver Parks Board doesn't have much respect for the unique buildings in their portfolio (see also Van Dusen Education Centre news item above). Perhaps they wanted to put up an 80 storey tower to "punctuate the skyline" of the park and help "make ends meet" ... ?

View of the geodesic dome.
---
Feb. 8: BC ARTISTS NOMINATED FOR B.C. HISTORICAL FEDERATION AWARD
BC ARTISTS has once again been nominated for an award. Vancouver author Sheryl Salloum has submitted a nomination for the B.C. Historical Federation Certificate of Merit. The Certificate is awarded to a "group or individual who has made a significant contribution to the study, project, or promotion of British Columbia's history."

Firstly, I would like to thank Sheryl for making this nomination, and for spending the time to put together the nomination letter and supporting material. We both hope that the effort is not in vain!

Sheryl Salloum is the author of UNDERLYING VIBRATIONS: The Photography and Life of John Vanderpant, published by Horsdal & Schubart Publishers, Victoria, BC in 1995. In 2011 she wrote THE LIFE & ART OF MILDRED VALLEY THORNTON, published by Mother Tongue Publishing, Salt Spring Island, BC. This was the "fourth book in The Unheralded Artist of BC series." Sheryl is currently working on a biography of BC Artist Sonia Cornwall, who lived at the Onward Ranch in 150 Mile House.

I purchased a copy of UNDERLYING VIBRATIONS a number of years ago, as Vanderpant is one of my favorite historic Vancouver photographers. I got to know Mona Fertig, owner of Mother Tongue Publishing, when they were starting their series of "unheralded artists" books. I was able to help with research on the first book on sculptor David Marshall, who I knew, and have helped out as much as I can with the subsequent books in the series. This included the book on Mildred Valley Thornton, on whom I had compiled a fair bit of information. Mona, Sheryl, and I became friends, and we frequently use each other as resources for our diverse projects. I greatly appreciate their friendship and support, and highly recommend their publications to readers interested in the art history of British Columbia.
---
Feb. 1: BC ARTISTS REVIEWED IN TIMES-COLONIST, VICTORIA BC
Long-time Victoria arts columnist Robert Amos has written a positive review of Sim Publishing's project BRITISH COLUMBIA ARTISTS. The review was published in the TIMES-COLONIST newspaper February 1st. An on-line version of the review is available at the following link:

CD of BC Artists is a Labour of Love

Mr. Amos is himself an artist and BC art historian, and is included in the BC ARTISTS project for his exhibitions of artwork on Vancouver Island, as well as for writing the book Artists in Their Studios. He is currently artist-in-residence at the Fairmont Empress Hotel, Victoria, and is in the midst of digitizing and transferring some of his collection of art ephemera to the University of Victoria Library and Archives. For more information please refer to his home page:

Robert Amos home page
---
Jan. 21: BIG POODLE ON MAIN STREET
A new public art poodle by artist Gisele Amantea has been getting a fair bit of press since its installation on Main Street this winter. Above and below are two views of it, seen from across the street on a foggy day. It looks a bit lonely more than anything ...
---
Jan. 5: Vancouver Historical Society Lecture on Vancouver's art history approved
My friend Michael Kluckner is a Director of the Vancouver Historical Society (VHS), and he suggested that I put forward a proposal to give a lecture on the history of art in Vancouver. I wrote an outline of my proposed talk and forwarded it to the VHS for their deliberation. I found out this week that the proposal is accepted, and that I have been booked to give my talk on the 4th Thursday of April, 2014.

The talk will be at the Museum of Vancouver, 1100 Chestnut Street, at 7:30 p.m. Admission is free. I'll post more information in a year or so when the date approaches. The VHS lecture series is very popular and usually has a full house, so mark your calendar and get there early!
---
Jan. 4: A belated farewell to Lynn Brown (1939 - 2012)
I dropped by my friend's store Salmagundi West to say hello, but it wasn't open yet. I was looking in the window and noticed this photograph of her in the window, which I thought was a little weird ... a closer look provided the unfortunate news that she passed away last fall, and the photo was part of a memorial display. I hate it when friends die without telling you.

I got to know Lynn 10 or 12 years ago, we kept running into each other at Westcoast Estates auctions. Over the years we had a lot of fun as we bid on various auction items, usually trying to get them for the lowest price possible. The auctioneer started ribbing us about our bidding, and she and I started referring to ourselves as "bottom feeders." Luckily the things that I was bidding on were usually not the things that she was bidding on, so we weren't competing.

Although she was single when I first met her, she later started a relationship with Gerald Giampa, the noted (and notorious) letterpress printer. They seemed to get on well together, although Lynn would occasionally refer to him as a "rogue." Unfortunately Gerald passed away June 24, 2009. A memorial article about him by Jim Rimmer was published in the Summer 2009 issue of Amphora, the journal of the Alcuin Society. I got to know Gerald during the time he and Lynn were together, and we had some interesting conversations about his past.

Hopefully Lynn and Gerald are together again, still looking for bargains and unusual items wherever they might be. Farewell, friends.
---

Jan. 4: Early morning fog in the harbour.
---

Jan.1: 2012 Christmas card original (work in progress)

This is the original artwork for my 2012 Christmas card FIRST WINTER. The drawing, when complete, was scanned and then made into a negative image. Thus, the black snow became white snow. In the end I erased the stars and snowflakes, leaving only the deer standing in the snow.
---
Home
Copyright 2013