Alexander Young Jackson
October 3 1882 - April 5 1974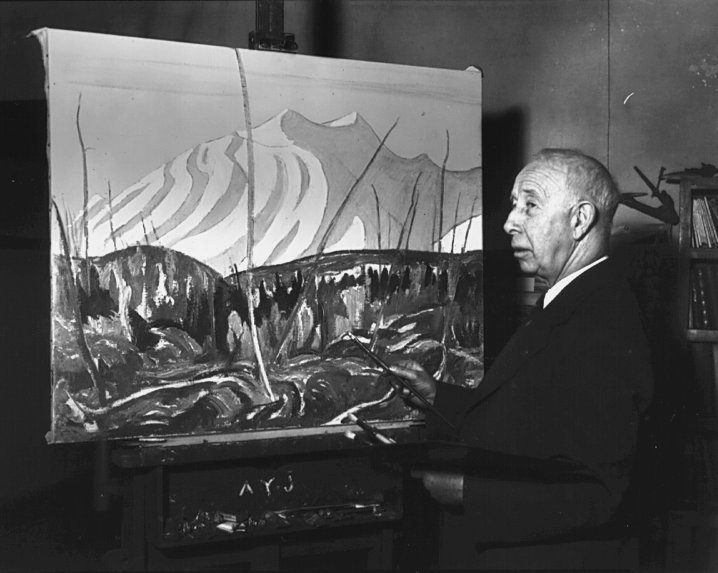 A.Y. Jackson portrait


Alexander Young Jackson was one of the members of the Group of Seven. He exhibited his work in Vancouver at the Vancouver Exhibition as early as 1922, in New Westminster in 1928, and later in 1931 when he had a duo show with Lawren Harris titled Sketches of the Canadian North.

Catalogue from the 1931 PNE show.

Other than these early shows, some contributions to traveling and group shows, and sketching in Southern Alberta and the Northwest c1937 - c1955, Jackson was primarily an Eastern Canadian artist, and is thus only noted here in passing.

It should be noted, though, that he visited Sonia Cornwall (q.v.) and her mother at the Onward Ranch at 150 Mile House, and did a number of paintings there while teaching at the UBC fine art extension courses.
Exhibitions
SOLO EXHIBITIONS
| | | |
| --- | --- | --- |
| DATE | EXHIBITION | LOCATION |
| | | |
| 1944 November 14 - 30 | A.Y. Jackson & H.G. Glyde (37 pictures) | VAG |
GROUP EXHIBITIONS

| | | |
| --- | --- | --- |
| DATE | EXHIBITION | ARTWORK |
| | | |
| 1928 Sept. 3 - 8 | ProvExh 8th Annual Salon | Quebec Village |
| | | Early Spring, Quebec |
| | | Night on the Skeena |
| | | Early Spring |
| | | Tamarac and Spruce |
| | | Autumn, Lake Superior |
| | | Winter, Quebec |
| | | Winter, Quebec |
| 1931 Aug. 22 - 29 | Vancouver Exhibition | Sketches of the Canadian North (with Lawren Harris) |
References
CANADIAN LANDSCAPE PAINTERS
1932; by Albert H. Robson, 228 pages, 75 illustrations in full colour
Published by the Ryerson Press. Toronto; no ISBN.
Includes index of painters, three page bibliography, biographical information

SOUVENIR CATALOGUE OF EXHIBITIONS OPENING THE NEW VANCOUVER ART GALLERY (refer to VAG51)

PERMANENT COLLECTION (refer to AGGV64)

THE FINE ARTS IN VANCOUVER, 1886 - 1930 (refer to THOM)

CREATIVE CANADA - Volumes One & Two (refer to CC71)
Includes two columns of information on Jackson.

CANADIAN ART PRINTS (refer to CAP79)

ROYAL CANADIAN ACADEMY OF ARTS -
EXHIBITIONS & MEMBERS 1880 - 1979 (refer to RCA81)

ARTISTS IN CANADA 1982 - UNION LIST OF ARTISTS' FILES (refer to AIC82)

MURALS FROM A GREAT CANADIAN TRAIN by Ian Thom
1986, bilingual, published by Art Global / Libre Expression
192 pages, illustrated throughout in colour and black and white
History of the murals commissioned for the Canadian Pacific Railway's Park Cars
Includes works by E.J. Hughes, W.J. Phillips, A.Y. Jackson

MONTREAL MUSEUM OF FINE ARTS -
SPRING EXHIBITIONS 1880 - 1970 (refer to MM88)

THE ALMA MATER SOCIETY ART COLLECTION - University of British Columbia 1948 - 1988
No ISBN, 64 pages, illustrated in colour and b&w
Includes history of the collection, artist biographies

TO THE TOTEM FORESTS - EMILY CARR AND CONTEMPORARIES INTERPRET COASTAL VILLAGES (refer to AGGV99)

A DICTIONARY OF CANADIAN ARTISTS (refer to M)
8 page biography, plus 1 page of footnotes.

CANADIAN ART - FROM ITS BEGINNINGS TO 2000 (refer to CAN00)

BIOGRAPHICAL INDEX OF ARTISTS IN CANADA (refer to BIAC03)
34 references listed for Jackson, including CC2, M, and RCA listed above.

THE GROUP OF SEVEN IN WESTERN CANADA
2002, Key Porter Books in association with the Glenbow Museum., ISBN 1-55263-439-6
Essays: Catharine M. Mastin, Robert Stacey, Marcia Crosby, Anna Hudson, Liz Wylie, Ann Davis
208 pages, extensively illustrated in colour and b&w
Published in conjunction with travelling exhibition 2002 - 2004.
Includes chronology, notes, list of lenders, selected bibliography, list of works, index

THE BOW - LIVING WITH A RIVER, edited by Gerald T. Conaty
Includes essays by G.T. Conaty, Daryl Betenia, Catharine Mastin
2004; ISBN 1-55263-634-8; Glenbow Museum, published by Key Porter Books Ltd.
160 pages, hardcover; extensively illustrated with artwork and historical photographs
Includes essays, select artist biographies, art and general bibliographies, index
Artwork by western artists includes Jackson

OUR CHANGING LANDSCAPE (refer to BAG08)

ART INSPIRED BY THE CANADIAN ROCKIES, PURCELL
MOUNTAINS AND SELKIRK MOUNTAINS 1809-2012 (refer to TOWN12)

THE GRANDE DAMES OF THE CARIBOO (refer to FOW13)
Includes works illustrated.

THE FECKLESS COLLECTION (refer to FECK18)
Clippings
"Who, for example, would have believed, say, five year ago, that a responsible body of citizens acting for a civic gallery would deliberately acquire for its permanent collection an A.Y. Jackson? Yet, that actually was done recently to the great contentment of many." (continues)
From "BRITISH COLUMBIA ART - Significance of First "All British Columbia Show" by Harold Mortimer Lamb
Saturday Night, December 10 1932

"A.Y. Jackson - A Retrospective Exhibition"
Canadian Art magazine, 1953, Vol. 11 No. 1

HOME