Caroline Bettina Somers (nee Calverley)
July 17 1904 - May 22 1989

C. Bettina Somers was born in Blemfontain, South Africa. Her parents were from England, and came to Canada c1913. She was educated in Toronto ON in 1917. It is recorded that her sister was a noted Egyptologist and historian. Somers is reputed to have worked as a spy in World War Two, and to have worked on the first electronic computer.

She returned to Canada after the war and lived in Toronto ON, where she studied under Carl Schaeffer prior to moving west. She exhibited as an invited contributor with the Canadian Group of Painters in 1947, showing a painting titled Merry Go Round with a price of $100.00. The painting was one of fourteen works illustrated in the catalogue.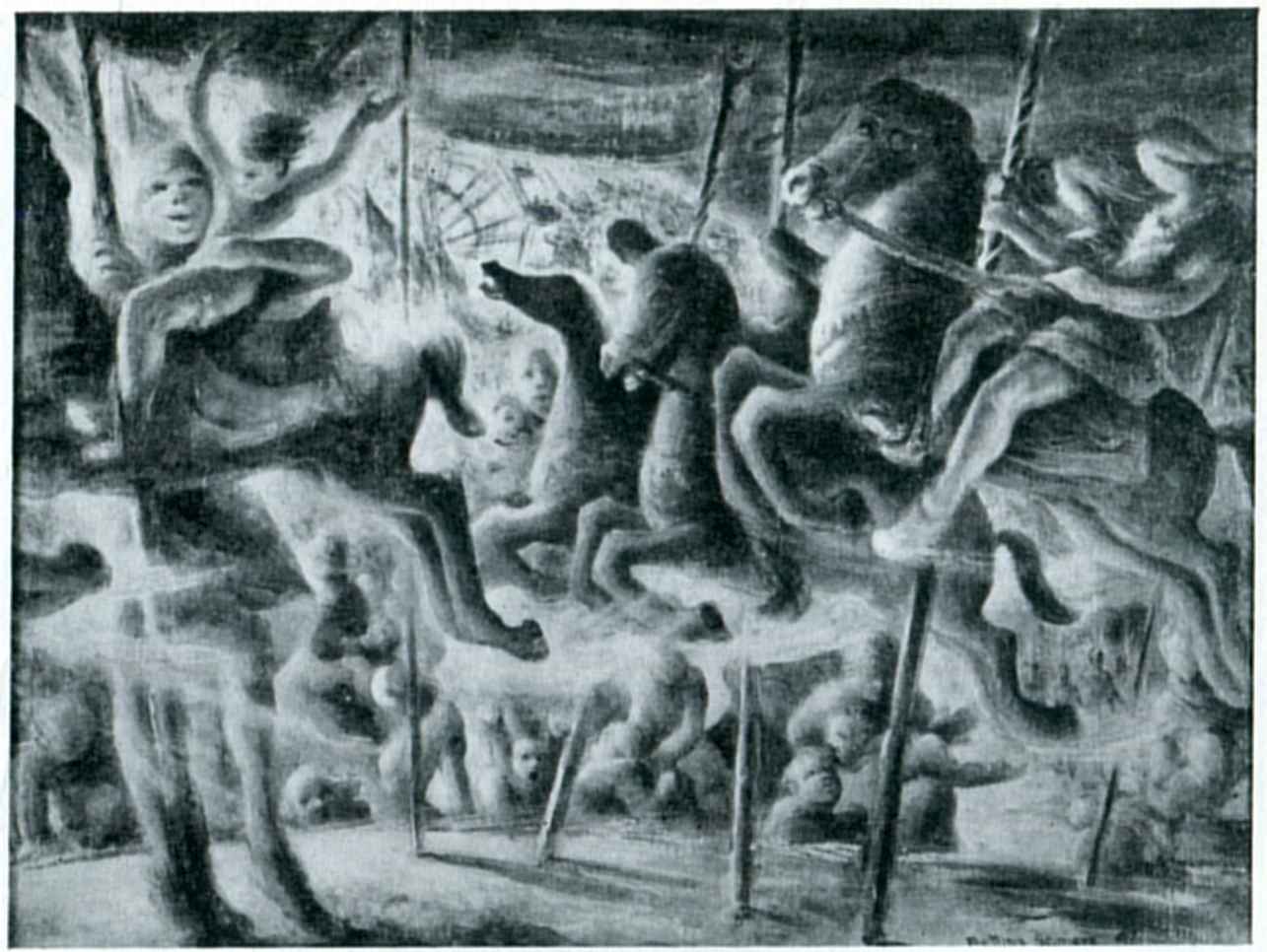 Merry Go Round, signed Bettina Somers 1947
She did not exhibit in the 1953 or 1958 exhibitions of the CGP, despite the latter show being held at the Vancouver Art Gallery. She was not listed as a member of the group nor otherwise noted in the three exhibition catalogues mentioned above, nor in two reference works on the CGP by Paul Duval (Four Decades) and Alicia Boutilier et al. (A Vital Force).
She exhibited in the annual B.C. Artists exhibitions at the Vancouver Art Gallery in 1949, 1950, 1951, and 1953.
She submitted four works to the 1949 B.C. Graphic exhibition at the Vancouver Art Gallery, three of them were selected for the exhibition. She was living in Oliver, B.C.
She exhibited with the B.C. Society of Fine Arts in 1952, 1954, and 1956.
She moved to Summerland in 1975, where she died in 1989 at the age of 84, occupation noted as "housewife" married to Reverend Edward S. Somers.
Exhibitions
| | | |
| --- | --- | --- |
| DATE | EXHIBITION | ARTWORK |
| | | |
| 1949 Oct. 8 - 30 | VAG B.C. Artists 18th Annual | Keremeos Rodeo |
| 1949 Nov. 22 - Dec. 11 | VAG First B.C. Graphic | Hockey |
| | | Pas-de-deux |
| | | Babes in the Wood |
| | | Studies in Action (rejected) |
| 1950 Nov. 28 - Dec. 17 | VAG B.C. Artists 19th Annual | Segment of School Band |
| | | Dead Flicker in Forest |
References
CANADIAN GROUP OF PAINTERS 1947-1948
Catalogue for CGP exhibition at AGO in 1947, AAM in 1948.
Lists Somers as an "invited contributor."

B.C. VITAL STATISTICS ON-LINE death (refer to BCVS)
Clippings
HOME