John Ernest Ritchel
1913 - March 18 2008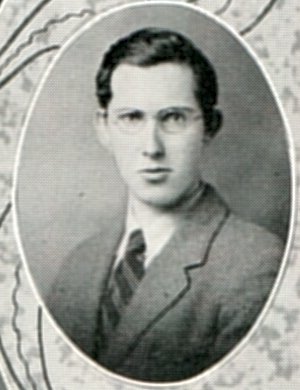 Ritchel portrait 1932-33


John Ritchel was born in Prince Rupert in 1913. His family moved to Victoria in 1914, then he studied art in England 1923-26.

He graduated from the Provincial Normal School in 1934. The 1932-33 Annual had the following notes about him:
"John had a part in the Christmas play, has been active in debating, and as a member of the Sketch Club he has shown himself quite an artist. His good sportmanship and sincerity have won him many friends at Normal."

He exhibited artwork in a 1941 solo exhibition at the Vancouver Art Gallery.

In 1977 the artist was living in Victoria with his artist wife Maia.

Interestingly, the news item in the 1941 VAG Bulletin states that Ritchel had exhibited work in the BC Artists' exhibitions "on several occasions" when in fact he apparently did not exhibit in them at all (with the possible exception of exhibition catalogues not seen).
EXHIBITIONS
SOLO EXHIBITIONS
| | | |
| --- | --- | --- |
| DATE | EXHIBITION | LOCATION |
| | | |
| Mar. 18 - 30, 1941 | Solo show | VAG |
GROUP EXHIBITIONS

References
VISUAL ARTS BRITISH COLUMBIA (refer to VABC77)

ARTISTS IN CANADA 1982 - UNION LIST OF ARTISTS' FILES (refer to AIC82)

A DICTIONARY OF CANADIAN ARTISTS (refer to M)
One-page bio with references

BIOGRAPHICAL INDEX OF ARTISTS IN CANADA (refer to BIAC03)
1 reference to Ritchel (Macdonald).

https://aggv.ca/emuseum/people/4059/john-ritchel;jsessionid=716E70E17A97B6F48E19B1E54F20FABA

https://www.vicnews.com/obituaries/john-ernest-ritchel/
Clippings
No. 375 - JOHN RITCHEL.
"Mr. Ritchel is a young local artist, trained at the Vancouver School of Art, whose work has been exhibited in our B.C. Artists' Exhibitions on several occasions. He is an accomplished draughtsman and the exhibition under review will display Mr. Ritchel's talents in this direction."
Vancouver Art Gallery Bulletin, 1941




HOME