Arthur Henry Parker
August 15 1878 - May 9 1944
Arthur Henry Parker was born in Newcastle-under-Lyme, England, in 1878.

He was a member of the Island Arts and Crafts Society, and had work in their 1912 exhibition. His last work was shown with the group in 1925.

He exhibited the watercolour painting "Misty Moon" with the Royal Canadian Academy in 1923.

His studio was listed in a 1928 advertisement in THE CALL OF THE COAST, published in Vanocouver (see below).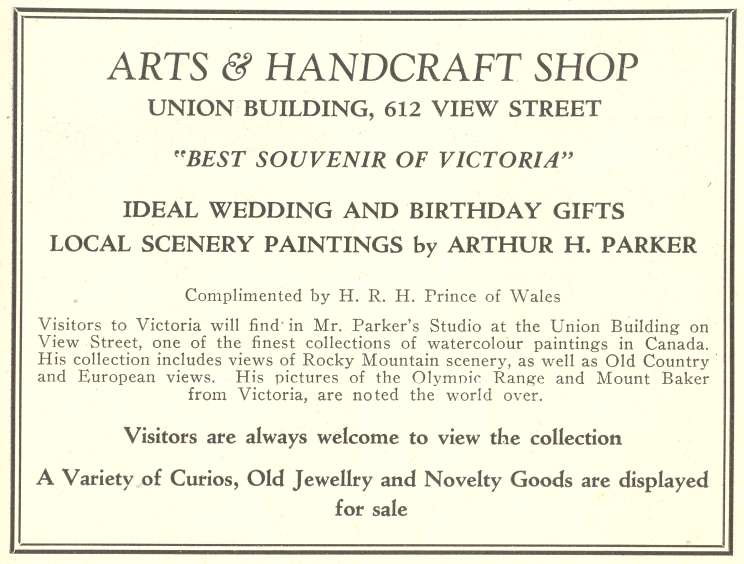 He had work in the 1936, 1937, and 1941 annual B.C. Artists exhibitions at the Vancouver Art Gallery, and also had a solo exhibition at the gallery in 1936.

A letter from his wife Alice E. Parker is on file at the VAG Library. It notes that she had a radio programme titled "Artist's Corner" which was broadcast from Victoria. She intended to announce Arthur's solo 1936 exhibition on the programme. The couple was living on Palliser Avenue, Mount Tolmie P.O., Saanich.

PARKER, Arthur Henry
Born August 15, 1878 at Newcastle Under Lyme, Staffordshire, England, son of the late Henry Parker; studied painting (landscape, seascape and figure) under Sir Alfred East R.A., and J.A. Bacon, England; diplomas: London, Paris, Art Schools of Newcastle U.L and Hanley, Staffs., England; "accepted" by Royal Canadian Academy of Arts, Toronto, 1924; has exhibited paintings at London, Birmingham, Manchester, Bolton, Stoke-on-Trent and other art centres in England; has travelled extensively on Continent of Europe exhibiting at prominent European Art Centres; his work has been complimented by H.R.H. the Prince of Wales, Sir John Lavery, president, R.A., London, England; served overseas in France 1915 until end of Great War; married 1904, Alice Elizabeth, daughter of Samuel Foster, of "The Grange," Butterton, England; Mrs. Parker is a writer and poet of considerable note; member, executive of The Bolton Arts Society; North Staffordshire Arts Society and Sketching Club; Arts and Crafts Society, Victoria; Recreations: tennis, bowling, golf; Church of England; Residence: Cedar Hill, Victoria, B.C.

WHO'S WHO IN BRITISH COLUMBIA 1937-38-39 (see below)


His birth date is alternately given as 1874.
Exhibitions
SOLO EXHIBITIONS
GROUP EXHIBITIONS

| | | |
| --- | --- | --- |
| DATE | EXHIBITION | ARTWORK |
| | | |
| 1933 Mar. 3 - 15 | VAG IACS Vancouver Island Exhibition | Mt. Sir Donald, Canadian Rockies |
| | | Rising Moon |
| | | The Chalk Hills, Dover |
| 1936 Sept. 18 - Oct. 11 | VAG B.C. Artists 5th Annual | Midsummer Garden, Residence of S.R. Smith, Esq. |
| | | Evening on the English Downs |
| | | The Corn Mill, England |
| 1936 Oct. 15 - 20 | VAG B.C. Artists Chilliwack Exhibition | The Corn Mill, England |
| 1937 Sept. 17 - Oct. 10 | VAG B.C. Artists 6th Annual | Moonrise Across the Straits |
| | | Early Morning Light, Forbidden Plateau, Vancouver Island |
| | | The Grozzon, Italian Alps |
| 1941 Sept. 26 - Oct. 19 | VAG B.C. Artists 10th Annual | Misty Morning |
References
THE CALL OF THE COAST: BRITISH COLUMBIA, CANADA
1928, published by B.C. Advertisers, 615 West Hastings, Vancouver
94 pages, illustrated with black & white drawings and photographs
Includes articles on coastal towns and businesses, numerous advertisements
Info on B.C. Art League and Vanderpant Galleries on page 20

WHO'S WHO IN BRITISH COLUMBIA 1937-38-39
A Record of British Columbia Men and Women of Today
S. Maurice Carter Editor & Publisher
Copyright 1939, printed by The Robson Printers, Vancouver B.C.
208 pages, hardcover; name index (8 pages), biographies (196 pages), obits. (4 pages)

WHO'S WHO IN NORTHWEST ART (refer to WWNA41)

ISLAND ARTS AND CRAFTS SOCIETY - List of Exhibitors

ROYAL CANADIAN ACADEMY OF ARTS -
EXHIBITIONS & MEMBERS 1880 - 1979 (refer to RCA81)
Short listing, 1 painting exhibited in 1923.

ARTISTS IN CANADA 1982 - UNION LIST OF ARTISTS' FILES (refer to AIC82)

MONTREAL MUSEUM OF FINE ARTS -
SPRING EXHIBITIONS 1880 - 1970 (refer to MM88)

BIOGRAPHICAL INDEX OF ARTISTS IN CANADA (refer to BIAC03)
3 references cited for Parker including MM.

CITY & PROVINCIAL DIRECTORIES 1922-25/27-32 Victoria (refer to DIR)
Clippings
"Fine Water Colors by Arthur H. Parker on Show at Gallery"
(unknown monograph), July 16 1936




HOME