Gary T. Ness
1928 - 2008

Gary T. Ness was born in Saskatchewan, but his parents sent him to Vancouver to attend St. George's private school. Afterwards he attended the Vancouver School of Art. He exhibited artwork in the B.C. Artists exhibitions at the Vancouver Art Gallery in 1946, 1947, and 1950. The artist was living in Vancouver in 1946, and on Lulu Island in 1947.

He studied for a year at the Ecole des Beaux Arts in Paris in the 1950s, and worked in the conservation department at the Louvre, Paris. He then spent ten years researching art at the British Library in London. He was there in 1969 painting "portrait commissions in pastel." At some point he temporarily returned to Vancouver where in 1963 he advertised "Studio 55" in a local newspaper.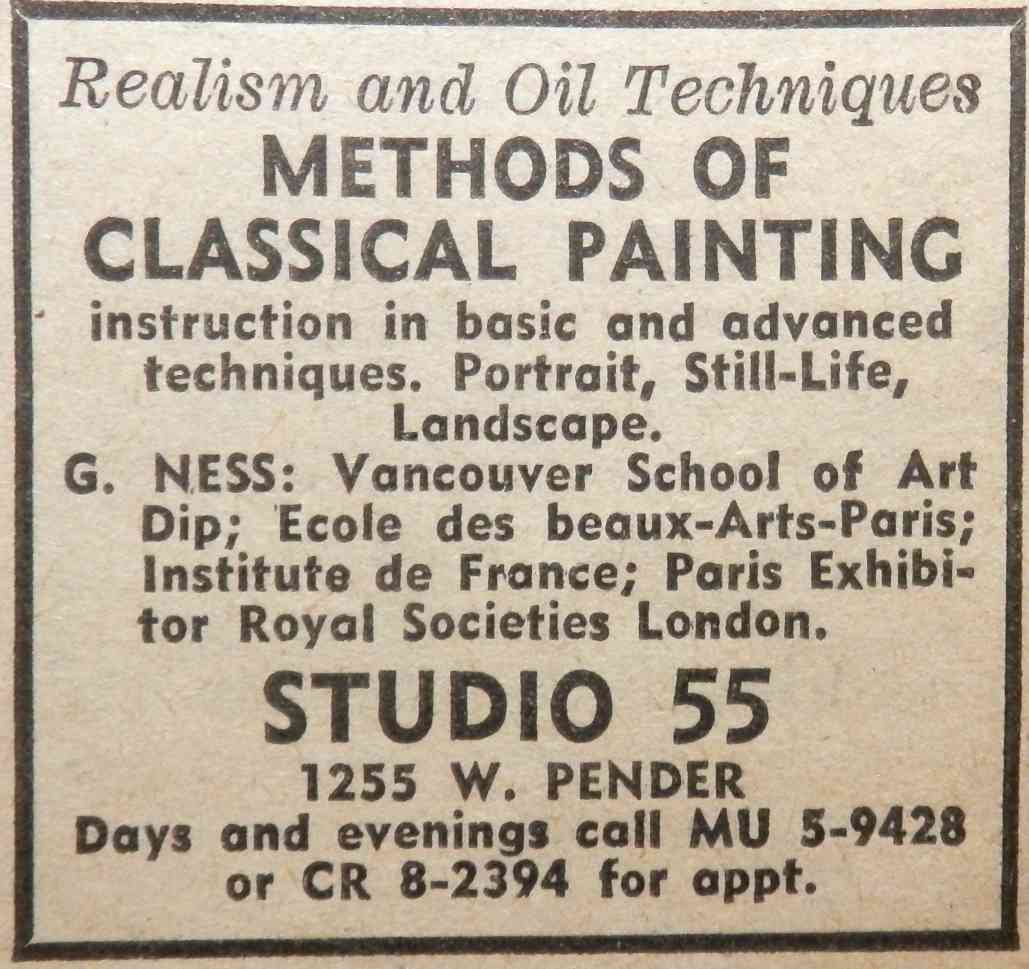 1963 advertisement

An article on Ness was published in the New York Times in 2002, and the Vancouver Art Gallery Library has a fond (see references).

BC Vital Statistics on-line did not provide any information on the artist as of June 2021.
EXHIBITIONS
SOLO EXHIBITIONS
GROUP EXHIBITIONS

| | | |
| --- | --- | --- |
| DATE | EXHIBITION | ARTWORK |
| | | |
| 1946 Sept. 21 - Oct. 13 | VAG B.C. Artists 15th Annual | "X" Music |
| 1947 Sept. 20 - Oct. 12 | VAG B.C. Artists 16th Annual | Trees I |
| | | Trees II |
| 1950 Nov. 28 - Dec. 17 | VAG B.C. Artists 19th Annual | Antigone and Ismene |
| | | Antigone |
References
ARTISTS IN CANADA 1982 - UNION LIST OF ARTISTS' FILES (refer to AIC82)

https://www.memorybc.ca/gary-ness-fonds

https://www.nytimes.com/2002/09/22/magazine/no-brain-no-gain.html
Clippings
HOME