Ernest (Ernie) Arthur Harris
1908 -

Ernest A. Harris graduated from King George V high school in Vancouver (now Magee) in the 1922-23 school year. He provided a number of pen & ink illustrations to the school annual that year.

He exhibited with the Island Arts and Crafts Society in 1922.

In 1925-26 he was attending the Provincial Normal School. He was a member of its Sketch Club and provided illustrations for the school annual.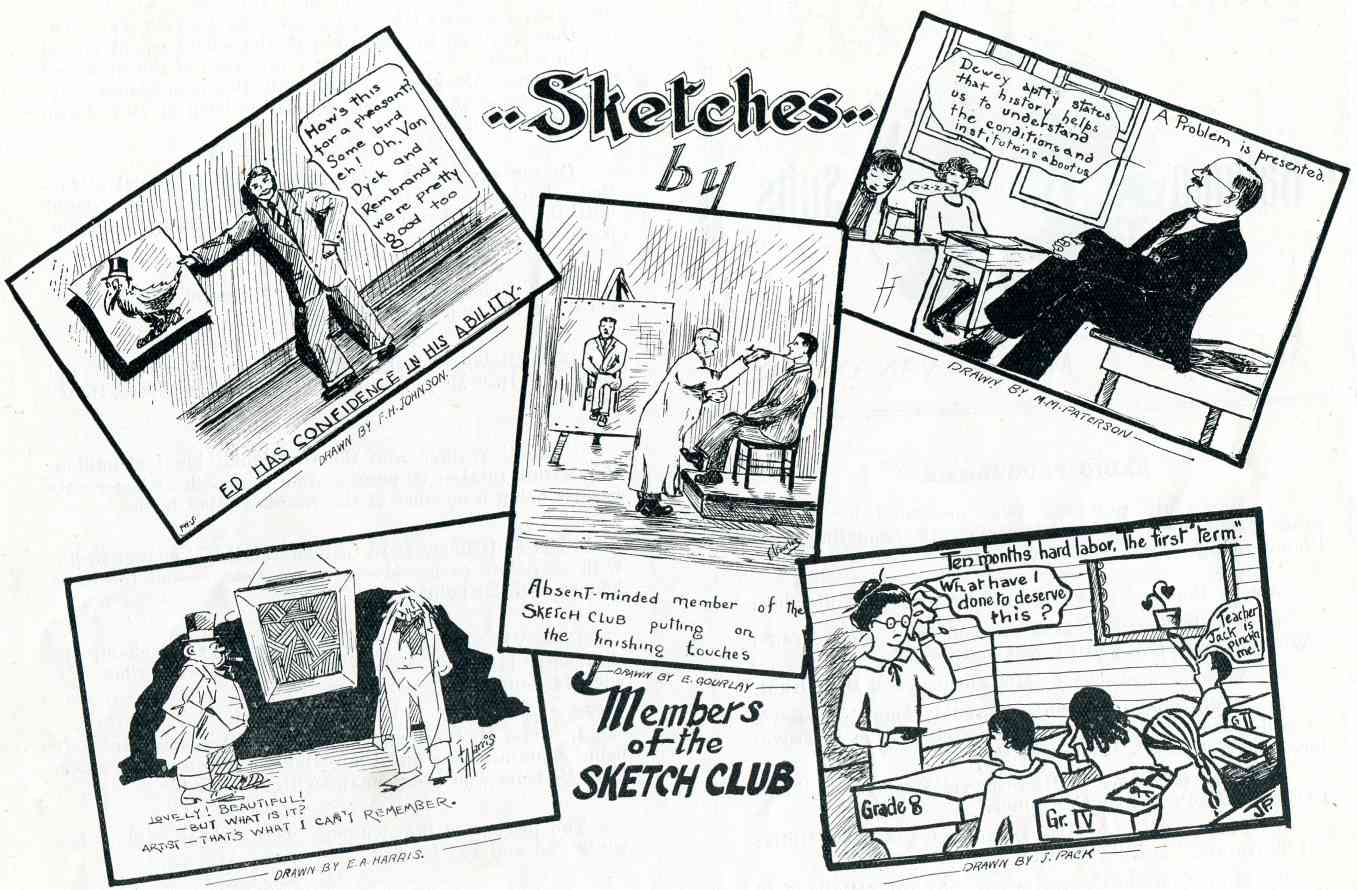 He was a founding member of the Federation of Canadian Artists in 1941.

The titles of his artworks exhibited in the BC Artists exhibitions indicate his involvement with World War Two, it would be interesting to know more information about this.

He exhibited in the B.C. Artists exhibitions at the Vancouver Art Gallery from 1938 to 1947, and 1955.

In 1977 the artist was living in Vancouver.
Exhibitions
SOLO EXHIBITIONS
GROUP EXHIBITIONS

| | | |
| --- | --- | --- |
| DATE | EXHIBITION | ARTWORK |
| | | |
| 1938 Sept. 16 - Oct. 9 | VAG B.C. Artists 7th Annual | ... And in Lighthouses |
| | | Cannery, West Vancouver |
| 1941 Sept. 26 - Oct. 19 | VAG B.C. Artists 10th Annual | Wreck |
| 1942 Sept. 25 - Oct. 18 | VAG B.C. Artists 11th Annual | Basement Dissertation |
| | | The Church on the Dike |
| 1943 Sept. 25 - Oct. 20 | VAG B.C. Artists 12th Annual | Obstacle Course |
| 1946 Sept. 21 - Oct. 13 | VAG B.C. Artists 15th Annual | Caen |
| | | Line-up in Normandy |
| 1947 Sept. 20 - Oct. 12 | VAG B.C. Artists 16th Annual | Beach Fire |
| | | Driftwood |
References
ISLAND ARTS AND CRAFTS SOCIETY - List of Exhibitors

VISUAL ARTS BRITISH COLUMBIA (refer to VABC77)

ARTISTS IN CANADA 1982 - UNION LIST OF ARTISTS' FILES (refer to AIC82)

VANCOUVER PUBLIC LIBRARY - B.C. ARTISTS FILES (refer to VPL)
Clippings
HOME