Earl ("Bunny") Edward Winton Clarke
(also Winston, Clark)
July 8 1879 - February 20 1954
Earl Winton Clark was born in Woodstock, Ontario. Earl was his mother's maiden name. According to his 1954 death certificate, he came to B.C. about 1880 or 1881, obviously with his family, and moved to Victoria around 1894. He exhibited with the Island Arts and Crafts Society from 1915 to 1941.

He was a sculptor, and taught at the Victoria High School, retiring in 1944 after 50 years in the profession.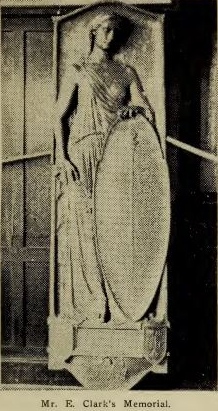 Memorial sculpture, Victoria High School 1925, from The Matric

He exhibited work at the Vancouver Art Gallery in the B.C. Artists' exhibitions.

Interestingly, he married Minnie Sophie Bloss, a 70-year old widow, in Victoria on January 18 1946. The groom was 66, and was a widow.

B.C. Vital Statistics on-line records that he died in Victoria at the age of 74.
Exhibitions
SOLO EXHIBITIONS
GROUP EXHIBITIONS

| | | |
| --- | --- | --- |
| DATE | EXHIBITION | ARTWORK |
| | | |
| 1933 Sept. 22 - Oct. 15 | VAG B.C. Artists 2nd Annual | Little Brother of the Birds |
| 1935 Sept. 20 - Oct. 15 | VAG B.C. Artists 4th Annual | Portrait bust in plaster |
References
ISLAND ARTS AND CRAFTS SOCIETY - List of Exhibitors

MONTREAL MUSEUM OF FINE ARTS - SPRING EXHIBITIONS 1880 - 1970 (refer to MM88)

A CENTURY OF SCULPTURE (refer to SSBC98)

ARTISTS IN CANADA 1982 - UNION LIST OF ARTISTS' FILES (refer to AIC82)

B.C. VITAL STATISTICS ON-LINE marriage, death (refer to BCVS)
Clippings
"Earl Winton Clarke, 1461 Pembroke, well-known former art instructor at Victoria High School and an outstanding Canadian sculptor, died Saturday. He was 74 years old. Born in 1880 in Woodstock, Ont., Mr. Clarke was brought to Victoria a year later. He attended Boys' Central School and was at Victoria High in the days when there were only four teachers. In 1905 he graduated with an arts degree from McMaster University, teaching at Cumberland High for three years before coming to Victoria High. He served at Victoria high for 37 years. He was a first-class sculptor and after First World War was commissioned by the school trustees to execute the Victoria High memorial to the students and teachers who gave their lives in the 1914-18 conflict. That memorial in bronze now hangs inside the school's main entrance. In 1926 Mr. Clarke was offered a scholarship by Lieutenant-Governor Walter Nichol for a year's study in Europe. He attended the British Academy in Rome, where he shared the coveted Calderon Prize with an English artist. He executed many busts of prominent Canadians which won him wide praise. He is survived by his widow, Minnie, at home; two daughters, Miss Anna Clarke, Victoria, and Mrs. Sarah Yount, Arrowhead, B.C., and one sister, Mrs. Mable W. Rushforth, Victoria. Funeral services will be held at Hayward's Chapel at 3:15 p.m. Tuesday. Rev. Moir A.J. Waters will officiate. Last rites are under the auspices of the Vancouver-Quadra Lodge, No. 2, AF & AM, GRBC, of which he was a member. He will be buried in Ross Bay Cemetery."
"Earl Winton Clarke Funeral Under Masonic Direction"
Times Colonist February 22 1954

"Inside the main entrance of Victoria High School is a bronze plaque in which a feminine figure of restrained grief holds a shield. On it are the names of boys and men of the school who gave their lives in the First World War. In the Ewing Library at Victoria College is a bronze bust of Dr. E.B. Paul, the father of that institution. These are samples of the work done by Earl Winton Clarke, whose long life of quiet achievement ended last Saturday. They are memorials to men he knew and whom he respected. They preserve in bronze the memories of personalities whose contributions to their fellow-men have been great. There is no bronze of Earl Winton "Bunny" Clarke. Yet he, too, has his memorial - the influence he exercised upon countless students who were brought by him to some finer appreciation of line and color. As they pause now to remember that unobtrusive, modest figure, they pay mute tribute to a man who created impressions not only with the sculptor's tools and on the artist's clay, but on the human substance he helped to mold."
"Hands That Are Stilled"
Times Colonist February 23 1954




HOME