Barleigh
(Mrs. Barbara Leighton)
1911 - 1986
Barleigh (Mrs. Barbara Leighton) was born in Plymouth, England in 1911. She exhibited her work under the name Barleigh, a combination of her first name and her husband's last name.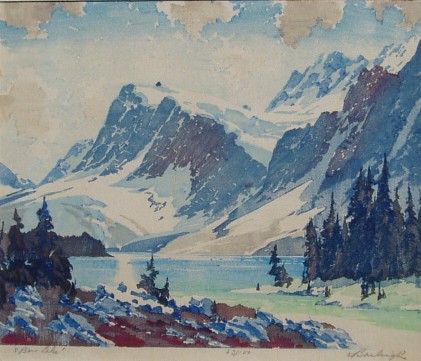 She exhibited a colour woodblock print with the B.C. Society of Fine Arts in their annual exhibition in 1942.

She was the wife of noted artist A.C. Leighton, and composed her woodcuts entirely from works by her husband. After selecting a painting, she would trace over it and then make a number of blocks for colour. She generally made editions of 100, and is thought to have only produced about fifteen different prints.
Exhibitions
References
THE SHELL CANADA COLLECTION (refer to SHEL77)

ARTISTS IN CANADA 1982 - UNION LIST OF ARTISTS' FILES (refer to AIC82)

IMAGES OF THE LAND - CANADIAN BLOCK PRINTS 1919 - 1945 (refer to GLEN84)

A DICTIONARY OF CANADIAN ARTISTS (refer to M)
Brief biography, a few references.

ALBERTA SOCIETY OF ARTISTS - The First Seventy Years
2000, by Kathy E. Zimon; illustrated b&w with colour section at end
University of Calgary Press; ISBN 1-55238-034-3
Includes list of members, executive, exhibitors in selected exhibitions, index
Chapter on A.C.Leighton, Barleigh's Bow Lake (see above) illustrated on the back cover.

BIOGRAPHICAL INDEX OF ARTISTS IN CANADA (refer to BIAC03)
2 references cited for Mrs. Leighton.

DAILY GRIND EXHIBITIONS (refer to DG27)

THE FECKLESS COLLECTION (refer to FECK18)
Clippings
HOME