Georgina Edna McMahon
(also Georgena, Georgeana)
(m George William Armstrong)
September 5 1898 - May 29 1962

Georgina McMahon was born in Revelstoke. Her parents were from Ontario. By 1925 she was listing herself as a commercial artist in the CITY & PROVINCIAL DIRECTORIES, address 434 Richards Street, Vancouver.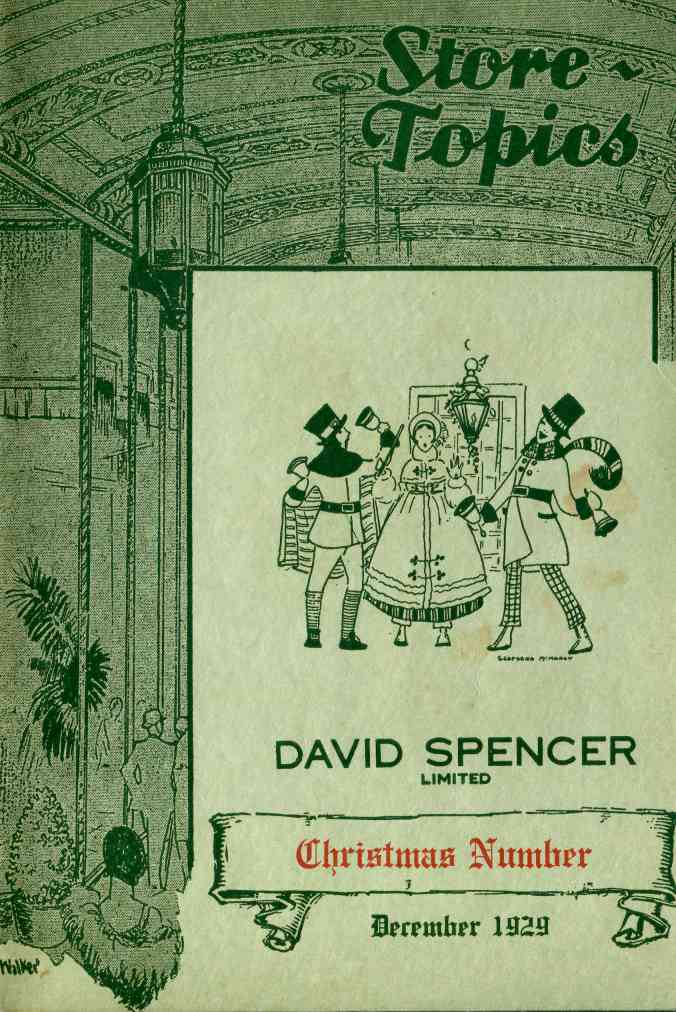 Store Topics cover image 1929.

Store Topics cover image 1929 (detail).

Store Topics back cover image 1929.

She married George Armstrong in Vancouver on June 16, 1928. In 1929 she was noted as being an illustrator for the David Spencer Ltd. in-house pamphlet titled Store Topics. She moved to West Vancouver around 1947, and died in Vancouver in 1962.
EXHIBITIONS
SOLO EXHIBITIONS
GROUP EXHIBITIONS

References
David Spencer Ltd. Store Topics issues 45, 54, and 57.

CITY & PROVINCIAL DIRECTORIES (refer to DIR) Vancouver 1925

B.C. VITAL STATISTICS ON-LINE birth, marriage, death (refer to BCVS)
Clippings
"Mrs. G.W. Armstrong (Georgeana McMahon) is always very generous when we approach her on behalf of our magazine. The sketches on the front and back are from her skillful fingers."
From Acknowledgments by Editor
David Spencer Limited Store Topics, Christmas Number December 1929.

HOME