David Blair
fl. c1900-1920

David Blair, a botanical illustrator, moved to Victoria, B.C. around 1899 after teaching art at South Kensington and in New Zealand, where he sat on examination boards for students seeking admission to South Kensington. He moved to British Columbia, where an exhibition of his student's drawings was held in the Legislative Buildings in 1899, per an article in the Victoria Colonist. He was also listed in the Victoria directory that year.

The 1904 Henderson's directory listed Blair as "Science & Art Master, Normal School + Technical School, h 956 Thurlow" (Vancouver).

Blair was a Charter Member of the B.C. Society of Fine Arts when it was founded in 1909.

He was the the author of a series of school art instruction workbooks, Blair's Canadian Drawing Series, printed and published (the third edition of 1918, at least) by The Copp Clark Company Limited, Toronto. The series was "authorised by the Council of Public Instruction, British Columbia", there were at least four books in the series, Book 4 being for the Senior Grade, and the books were published in at least three editions, the first being in April 1909, the second edition in April 1913, and the third in March 1918. In his introduction to the third edition Blair thanks John Kyle: "My thanks are due to Mr. J. Kyle, A.R.C.A., for several important suggestions in connection with the work."

Examples of Blair's artwork are apparently very scarce, as the authors of both PLANTAE OCCIDENTALIS and Printmaking In British Columbia state that they were unable to locate any of his work. Thus, the example shown below is a rare published example of his work, albeit in an obscure, early instructional pamphlet.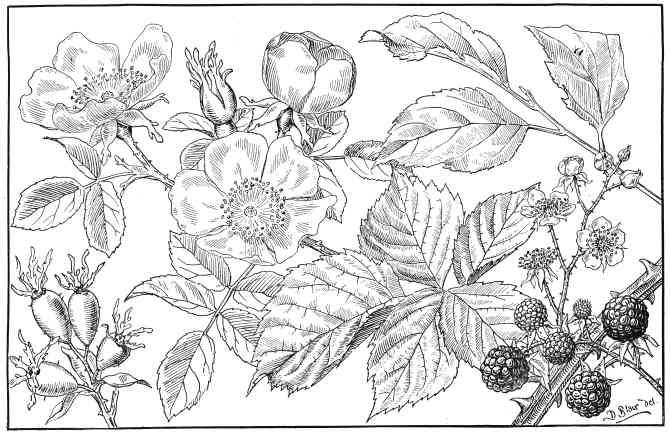 The workbooks are illustrated by Blair, Example 24 in Book 4 being a detailed full-page pen and ink drawing by Blair of a blackberry vine with leaves and berries,as well as wild rose hips and flowers. Book 4 also has three full pages of instructions for teachers, with headings: Object and Nature Drawing; Six Steps in Drawing; Pointers for the Teacher; Design; Propositions; and Colour.

The Calendar for the Vancouver High School for the 1906-07 school year lists his series as part of the curriculum for the arts program, so it was clearly published earlier than the series first published by Copp Clark in 1909. McMann notes that Blair was a lithographer who flourished c1899.

B.C. Vital Statistics on-line lists a number of Blairs with a first or middle name of David, more information would be needed to determine which Blair might be this artist. The most likely listing gives a death date of August 11, 1925, in Vancouver, at the age of 74.



Exhibitions
References - BIBLIOGRAPHY
Refer to BIBLIO.
References - GROUP EXHIBITIONS
PLANTAE OCCIDENTALIS - 200 Years of Botanical Art in British Columbia
1979, By Maria Newberry House, The Botanical Garden, U.B.C., Technical Bulletin No 11
Exhibition catalogue, illustrated; list of works; ISSN 0703-1432
Includes Introduction to the Art; A Historical Overview of Botanical Art in B.C.
Extensive list of references; ethnobotanical commentary on plants in the exhibition.
Biographical information on Blair page 22, noting that none of his work was known to the authors.

PRINTMAKING IN BRITISH COLUMBIA 1889 - 1983
October 6 to November 27, 1983, Art Gallery of Greater Victoria; ISBN 0-88885-081-6
Authors mention Blair, but note that they were unable to locate any of his work.
References - GENERAL
VANCOUVER HIGH SCHOOL AND COLLEGE - Calendar Session 1906 - 1907
1906; 32 pages; published by Vancouver School Board; illustrated with photographs
Blairs Canadian Drawing Series was listed as curriculum in the arts courses.

THE FINE ARTS IN VANCOUVER, 1886 - 1930 (refer to THOM69)

EARLY PAINTERS AND ENGRAVERS IN CANADA (refer to H70)

BIOGRAPHICAL INDEX OF ARTISTS IN CANADA (refer to BIAC03)
1 reference cited for Blair: Harper's Early Painters and Engravers in Canada.

CITY & PROVINCIAL DIRECTORIES 1899/1904 (refer to DIR)
Clippings
title not known
Victoria Colonist, November 26 1899




HOME