Janet Mary Eaves
(m Aubrey Grant Goodall)
February 29 1880 - March 1 1969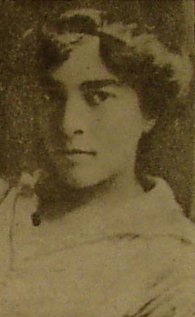 From The Gold Stripe, 1918


Eaves was born in Exeter, Devonshire, England. She came to Canada in 1911, and married Aubrey Grant Goodall in Vancouver on April 3, 1914. Interestingly, both of their fathers were clergymen.

Eaves had at least one illustration in the 1918 issue of The Gold Stripe - Volume One, and there was a short biographical note including a photograph of her on page 13.

From The Gold Stripe, 1918

She was a charter member of the B.C. Art League when it was founded in 1920, her address "Buena Vista P.O.".

She exhibited in the 1920, 1922, and 1925 annual exhibitions of the B.C. Society of Fine Arts, held at the Vancouver School Board offices on Hamilton Street. Her name was variously noted as Mrs. Goodall, Mrs. A.G. Goodall, J. Eaves, and Janet Eaves (Mrs. Goodall).

In 1961 Eaves donated land on Vancouver Island for a Provincial Park. It is now known as "Eves Park" due to a typographic error on the park signage, which she allowed to remain. She had requested that the park be named after her father, Rev. James Eaves.

Eaves died in Summerland, B.C. in 1969 at the age of 89, according to B.C. Vital Statistics on-line.

It is possible that this artist also exhibited under the name of Joan Goodall, see biography for alternating exhibitions from 1920 to 1925.
Exhibitions
References
The Gold Stripe - Volume One
1918, Christmas. Published by the Amputation Club of B.C., Vancouver
216 pages (including text, advertisements and photographs)
One illustration by Eaves, and short biography page 13.

B.C. VITAL STATISTICS ON-LINE death (refer to BCVS)

https://mylifewiththecritters.blogspot.com/2012/04/eves-park.html
Clippings
"Janet Eaves (Mrs. Aubrey Goodall), one of our artist contributors, was born in Devonshire, England. She studied art for some years in Dusseldorf, came to Canada in 1911, and has since devoted her talents to black and white work. She has a brother who is a staff officer with Sir Douglas Haig."
"Some Contributors", The Gold Stripe - Volume One, 1918




HOME